Alton Towers operator Merlin Attractions have been told to expect a "very large fine" as CCTV was released of a crash that took place on 2 June 2015, when two trains struck each other on the £18m Smiler rollercoaster.
In April 2016, Merlin admitted charges of breaching the Health and Safety Act and on 26 September the injured parties appeared at a sentencing hearing at Stafford Crown Court. An internal investigation found human error caused the crash.
Two teenagers - Leah Washington, 17, and 20-year-old Vicky Balch - each had legs amputated following the smash with several others were also seriously injured. The collision between the two carts was said to have had a similar impact to a car of 1.5 tons being involved in a 90mph crash, the court heard.
New CCTV released by the Health and Safety Executive (HSE) shows the moment of impact between a carriage full of people and an empty test-car.
The crash was said to have happened after engineers sent a test car round the track which failed at the bottom of the ride, out of view of workers.
Believing that the 16 seater car had been stopped in error, they overrode a computer system sending the car back around the track, which then crashed into the empty carriage.
Opening the, barrister Bernard Thorogood, prosecuting for the HSE told the hearing the "fault here is with the employers", not individuals as those operating the ride were doing so "without guidance from above".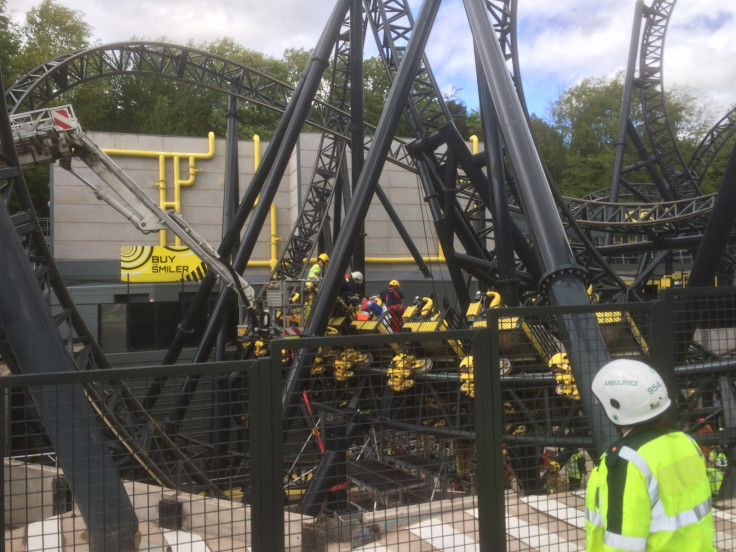 Thorogood added that the victims were left for a "significant period of time", at least 20ft (6m) above ground level, while waiting for treatment because of difficulties of doctors getting to the ride.
Judge Michael Chambers QC, said in passing sentence that he would consider "not just the impact on those injured, but on those close to them," according to the BBC.
Representing the theme park, barrister Simon Antrobus said Merlin's top executives had accepted responsibility for the crash immediately. He told the court: "(The company) accepts its responsibility that this should never have happened and accepted that the accident was attributable to failures that, while they were never intended, would have been avoidable with greater care".
Merlin Attractions say they have made a number of changes since the accident including improved access and a policy of closing the ride when winds exceed 35mph.