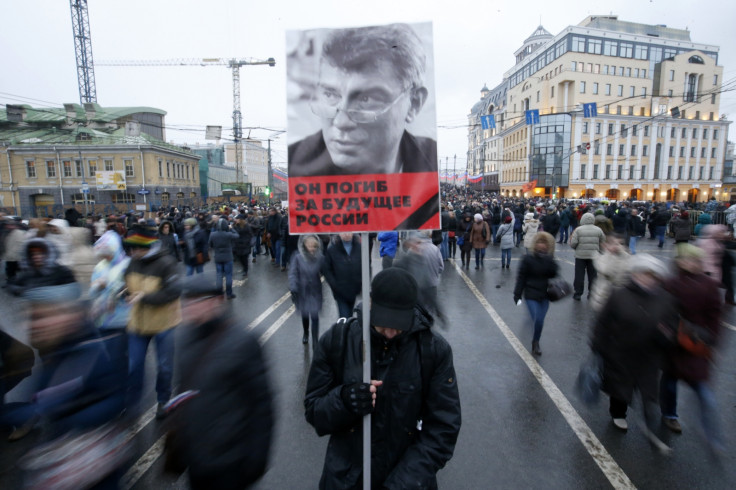 Tens of thousands of supporters of slain Russian opposition leader Boris Nemtsov have taken to the streets of Moscow to honour the former deputy prime minister, whose assassination has rocked the country and sparked dozens of conspiracy theories.
As they filed past the scene of the killing in central Moscow, some laid flowers, while others waved the national flag, chanted "Russia without Putin" and carried portraits of the politician and banners declaring "I am not afraid".
The outspoken critic of President Vladimir Putin was shot four times in the back as he crossed a bridge near the Kremlin on 27 February. He had been planning an opposition rally for Sunday, but now his supporters have turned out to mourn his death instead.
The majority of supporters marched through central Moscow, with unofficial estimates putting their numbers anywhere from 16,000 to 50,000. Smaller numbers of supporters also marched in St Petersburg and Ekaterinburg.
While some of his supporters have accused the Kremlin of involvement in his assassination – which was condemned by Putin as a "vile and cynical murder" – the authorities have suggested that the opposition may have been responsible and was attempting to discredit the president.
Russian investigators have announced that they are pursuing several lines of inquiry, and have mooted the theory that the killing was a "provocation" designed to destabilise the country.
A three million ruble (around £31,000 or $50,000) reward has been offered for information on Nemstov's death.
"The authorities are corrupt and don't allow any threats to them to emerge. Boris was uncomfortable for them, opposition politician Gennady Gudkov told Reuters.
"If we can stop the campaign of hate that's being directed at the opposition, then we have a chance to change Russia. If not, then we face the prospect of mass civil conflict."
Another opposition leader, Ilya Yashin, called the killing "an act of terror".
" It is a political murder aimed at frightening the population, or the part of the population that supported Nemtsov and did not agree with the government," he told the Associated Press. "I hope we won't get scared, that we will continue what Boris was doing."