CCTV footage has been released that appears to show the final moments of Russian opposition politician Boris Nemtsov before he was killed.
The video, released by Russian state owned television channel TV Tsentr, shows Nemtsov walking down the Great Moskvoretsky Bridge near the Kremlin with his girlfriend, Anna Duritskaya, before he was shot dead on 27 February.
A snow truck driving along the bridge stops near the couple and obscures the two from the camera. At the same moment, a car is seen approaching the spot where the couple were last seen and a person runs towards it, before the car speeds away.
A figure purported to be that of Duritskaya then runs toward the truck before returning to the murder scene. As the snow truck then drives away, two figures appear to be running down the steps of the bridge.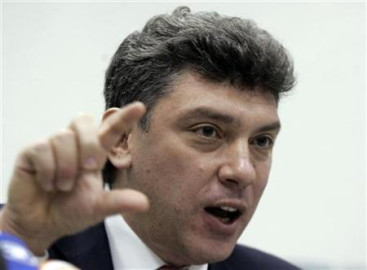 Minutes later, a police car arrives and two people approach the scene from the steps of the bridge, purported to be the same two figures that previously ran away.
Russian investigators have claimed the killers drove past Nemtsov and Duritskaya in a white Ford as they turned from Red Square on to the bridge, firing six bullets from a Makarov pistol, the kind used for years by Soviet and Russian police officers.
Four of the bullets hit Nemtsov in the back and head, killing him immediately. Authorities have not commented on the CCTV footage that has been picked up by media around the world.
Russian President Vladimir Putin has vowed to pursue those who killed Nemtsov, calling the murder a "provocation".
Nemtsov, who was 55, was one of the leading lights of an opposition struggling to revive its fortunes, three years after mass rallies against Putin that failed to prevent him returning to the presidency after four years as prime minister.
The opposition has little support outside big cities and Putin has now been Russia's dominant leader since 2000, when ailing President Boris Yeltsin chose the former KGB spy as his successor, a role Nemtsov had once been destined to play.
Nemtsov, a fighter against corruption, had hoped to start the opposition's revival with a march in Marino on the outskirts of Moscow on 1 March to protest against Putin's economic policies and what they see as Russia's involvement in the separatist war in east Ukraine. The Kremlin denies any role in the fighting.