Boris Nemtsov murder: Security cameras not working at time of shooting, say Moscow police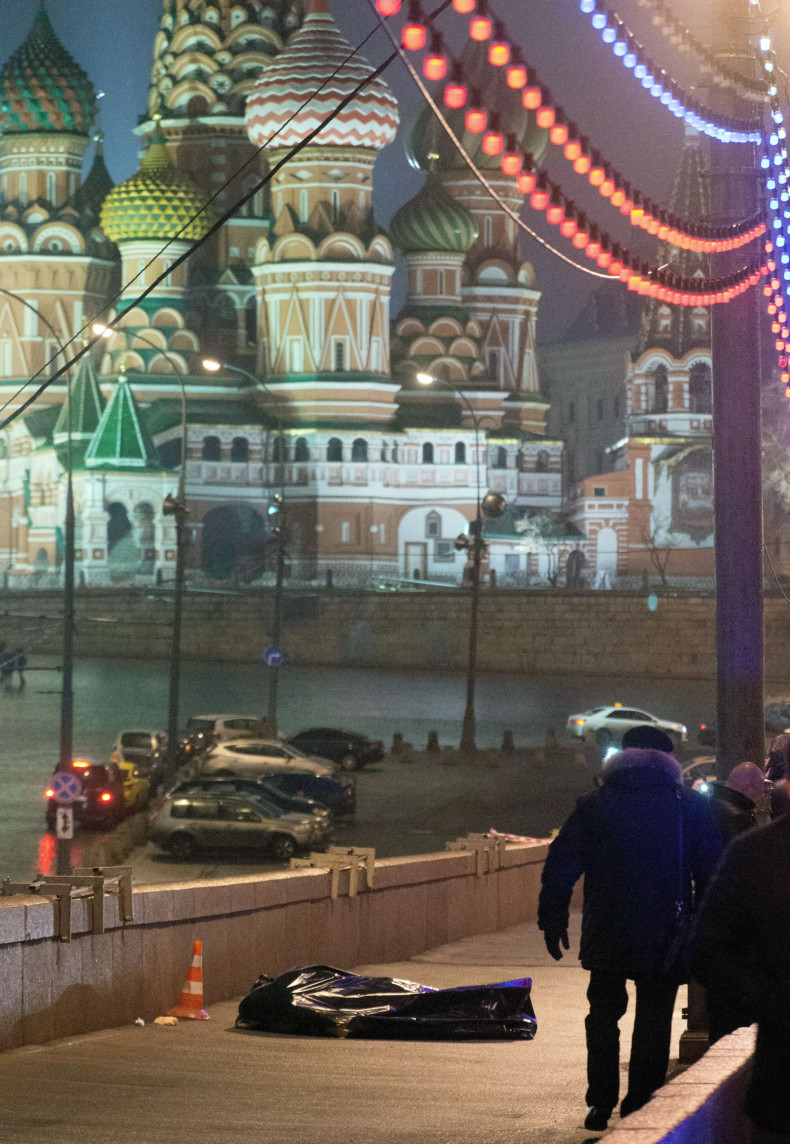 The security cameras filming the Moscow bridge where Russian opposition politician and Putin critic Boris Nemtsov was gunned down were not working at the time of the killing, Russian police have said.
Nemtsov was gunned down in a drive-by shooting on Moscow's Great Moskvoretsky Bridge within sight of the Kremlin on the night of Friday 27 February.
Police told pro-Kremlin newspaper Kommersant that the footage from surveillance cameras in the area was "not very clear, or altogether absent as they were turned off at the time for repair".
The paper reports that Nemtsov's girlfriend, Ukrainian model Anna Duritskaya, was in too much shock to recall the make of the car used by the killers to flee the scene, and that a number of vehicles recorded in the area at the time of the murder had been tracked down and their owners found to be innocent.
The news comes with Kremlin critics alleging President Vladimir Putin's complicity in the killing.
CCTV footage claimed to be of the shooting taken from a distance has been released on Russian media. It shows two figures walking along the bridge. A snow plough obscures them from view when Nemtsov is shot, and a figure runs from behind the vehicle and gets into a waiting car, which drives off. In the footage the appearance of the alleged killers is unclear.
Russian authorities are yet to comment on the footage, but said that none of the numerous other security cameras in the vicinity provided information valuable for the investigation.
According to the police experts cited in the report, the person who killed Nemtsov emerged from stairs leading on to the bridge and fired seven shots, with four hitting the politician.
The cartridges of the bullets were more than 20 years old and from different manufacturers, indicating to the investigators that the killers had limited access to ammunition, according to the report.
"The crime is likely to have been committed by non-professionals, perhaps even too ignorant to know what exactly is their goal," the paper cites the law enforcement source saying.
Critics have accused Russian authorities of attempting a whitewash.
Mikhail Kasyanov, an opposition leader and a former prime minister under Putin, said: "That a leader of the opposition could be shot beside the walls of the Kremlin is beyond imagination. There can be only one version: that he was shot for telling the truth."
Putin has alleged that the killing was an attempt to destabilise Russia, and said he had taken personal charge of the investigation.
The bridge falls within the special zone of protection of the FSO, the branch of Russian security services charged with protecting the president, reports the Interpreter.
On Twitter, a Russian blogger has posted a picture of the vicinity of the crime scene, highlighting the presence of numerous security cameras.