Boston Marathon Bombing: Hunt for 'Dark-Skinned or Black Male' and Yellow Van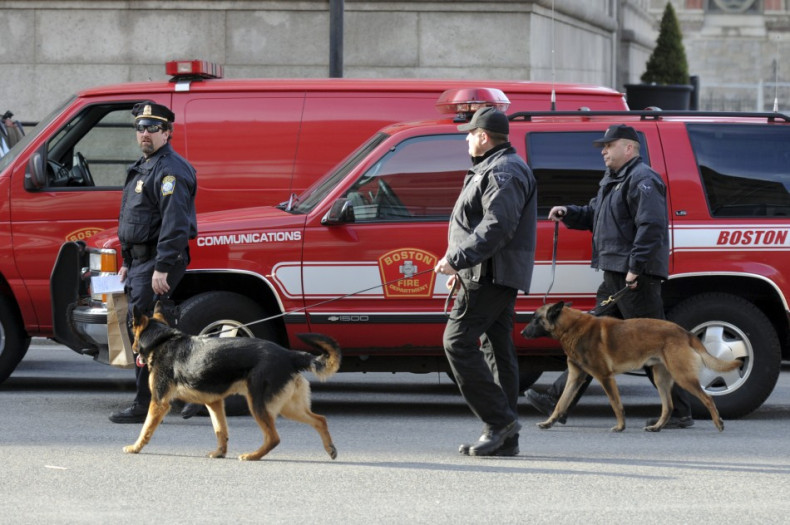 Investigators say they are looking for a "darker-skinned or black male" and a yellow van in relation to the double blast that killed three people in Boston, Massachusetts yesterday.
The suspect, who is said to possibly have a foreign accent, was seen trying to enter a restricted area wearing a black backpack and black sweatshirt five minutes before the first explosion, CNN reported.
Turned away, the unidentified man reportedly walked off and pulled his sweatshirt hood over his head.
Boston police and the FBI have searched an apartment on Ocean Avenue, part of Boston's Revere district. Massachusetts State Police confirmed that a search warrant related to the marathon bomb investigation was indeed served in that district, but did not provide any further detail.
TV station WABC reports that the yellow box truck officials are attempting to find was leased from the Penske rental company, and attempted to access the blast area approximately one hour after the attack, claiming it carried medical supplies.
Two more unexploded bombs
A Saudi national is being kept under guard at a Boston hospital, where he is receiving treatment for a wounded leg, in connection with the bombing. However investigators cannot say he is involved at this time and have specified he is not in custody, CNN reported.
No group has yet claimed responsibility for the bombings, which took place near the finish line of yesterday's marathon and injured 144 people, 17 critically.
Authorities found another two unexploded bombs near the end of the 26.2-mile (42km) course which were made safe, according to a senior US intelligence official who spoke on condition of anonymity.
Speaking from the White House, President Barack Obama pledged to bring the perpetrators to justice, while the FBI has taken charge of the investigation.
"We will find out who did this. We'll find out why they did this," Obama said. "Any responsible individuals, any responsible groups, will feel the full weight of justice."
Anyone with information about the explosions is urged to call +1-1800-494-TIPS.