The defence of convicted Boston Marathon bomber Dzhokhar Tsarnaev continued to highlight his brother's radicalisation on 28 as the attempt to spare him of the death penalty. Testimony during the sentencing phase of the trial focused on Tamerlan Tsarnaev's transformation, as well as his wife's internet searches relating to martyrdom.
Tamerlan's transformation, from boxer to radicalised bomber, was described by several witnesses. According to the Boston Globe, Brazilian immigrant Rogerio Franca described the older Tsarnaev brother as a pot-smoking drug dealer who also drank heavily. However, Franca said that when he ran into Tsarnaev in 2012, he was a changed man.
"He looked different. Big beard. Dressed in white," Franca told jurors. He added that Tsarnaev questioned him on whether he had converted to Islam.
The Globe reported that two of Tamerlan's boxing coaches testified, but only one remembered younger brother Dzhokhar. "I saw Jahar probably twice in that gym ... the young man right there," John Curran said. "I think he was 10 or 11 years old when he was in the gym. ... They had a close relationship. He was like a puppy following his brother."
The defence hopes to convince the jury that Dzhokhar was just following his older brother when they used two pressure-cooker bombs during the 2013 Boston Marathon. The explosions killed three and injured more than 260. The two brothers later killed a MIT police officer as they attempted to evade police. Tamerlan died during a shootout with police as Dzhokhar made his escape.
Tamerlan's wife, Katherine Russell was also the focus of Tuesday's testimony.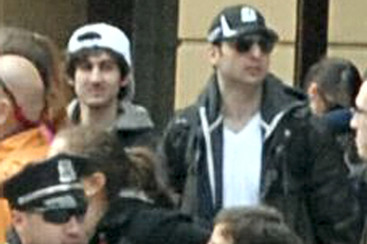 According to the Associated Press, computer expert Mark Spencer testified that a computer belonging to Russell contained searches for terms including "rewards for wife of mujahideen" and "if your husband becomes a shahid, what are the rewards for you?"
The searches were made more than a year before the April 2013 bombings, before and during Tamerlan's visit to Russia in January 2012. The word mujahideen is Arabic for "holy warrior," while shahid means martyr.
Russell's attorney, Amato DeLuca, has repeatedly stated that she did not suspect her husband of anything before the attacks and that she did not notice anything strange afterwards, the AP reported. DeLuca told the AP that neither he nor his client had heard from federal officials in over a year and she was not told she was the focus of an investigation.
Her name was first mentioned on 27 April, when her best friend Gina Crawford testified that Russell had texted her the day of the bombings saying that as far as she knew her husband was at home in Cambridge during the bombings. DeLuca said Crawford's testimony reinforced Russell's claim that she did not know what her husband was up to.
"If she did know that Tamerlan were involved in any way, she probably wouldn't have said something like that," DeLuca told the AP. "It brings credibility to what she said, which is, as far as she knows, he's at home."
According to the AP, Russell now lives near Tsarnaev's two sisters in New Jersey along with their 4-year-old daughter.
Dzhokhar Tsarnaev was found guilty of all 30 federal charges relating to the bombing and subsequent manhunt. Seventeen of those charges include the death penalty. The sentencing phase of his trial is expected to last four weeks.