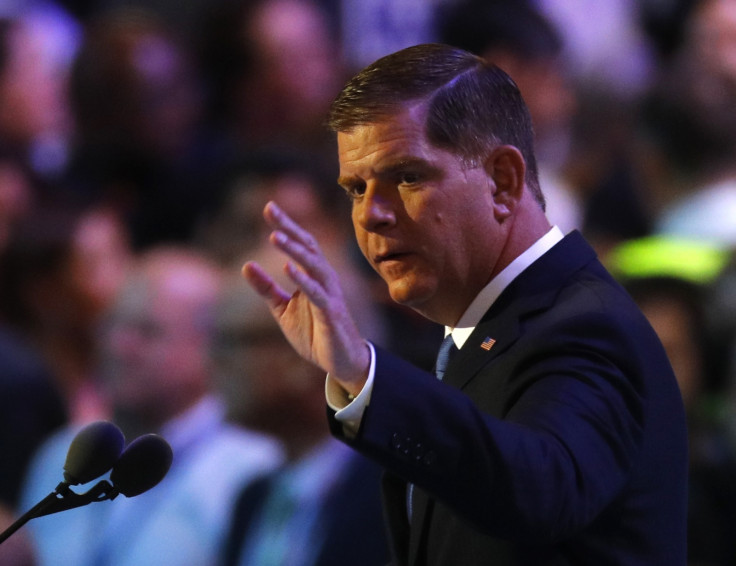 The mayor of Boston and the governor of Massachusetts have said they will not march in a St Patrick's Day parade unless a gay veterans group is allowed to attend.
The veterans' group OutVets said on Facebook that they had been excluded from the South Boston parade on 19 March, despite having marched the last two years.
The group said: "While the reason for our denial is unclear, one can only assume it's because we are LGBTQ".
The South Boston Allied War Veterans Council which organises the event voted 9-4 to exclude the group, CBS reported. It did not respond immediately to requests for comment.
In a statement, the Boston mayor Marty Walsh said: "I will not tolerate discrimination in our city of any form. We are one Boston, which means we are a fully inclusive city. I will not be marching in the parade unless this is resolved. Anyone who values what our city stands for should do the same."
There have calls from other quarters to boycott the parade by Congressman Seth Moulton and described the organiser's decision as "outrageous".
"Let's just be clear, these are men and women who courageously put their lives on the line for our country," Moulton said in a statement.
Governor Charlie Baker said he would also not take part if the gay veterans group is excluded.
"Veterans' groups should be allowed to march in the parade. If veterans' groups aren't allowed to march in that parade, I will probably do something else. I won't march," he said, according to MassLive.