Former world champion boxer Herbie Hide has been sentenced to 22 months in jail after admitting to selling cocaine.
Hide, 42, had previously pleaded not guilty to conspiracy to supply cocaine.
However, the former World Boxing Organisation title holder changed his plea in October after he was filmed during a sting operation involving the Sun on Sunday's Fake Sheikh.
Judge Mark Lucraft told Cambridge Crown Court that he passed a reduced sentence on Hide because of the "sting element".
Hide, of Norwich, appeared in court along with Ben Sharman, 22, who had previously admitted conspiracy to supply class A drugs, offering to supply class A drugs and offering to supply a class B drug.
Hide arranged to supply the cocaine to Mazher Mahmood, known as the Fake Sheikh for portraying a wealthy Arab businessman in similar undercover reporting, following a series of meeting at hotels earlier this year.
Prosecutor Chris Youell told the court that Hide had originally been targeted as part of an investigation into match fixing.
"Mr Mahmood was effectively a customer being sold drugs for money," he said.
"It was an isolated incident which would not have happened had Mr Mahmood not enticed Mr Hide into doing something illegal."
He added: "The whole thing comes about because of the interest shown by journalists in Mr Hide, in particular because of his local and to some extent national celebrity because of his success in the sporting arena.
"At the time he was planning a comeback and was contacted by reporters from the Sun seeking to expose the supposed fact that he was prepared to fix fights for money.
"During the conversation, Mr Mahmood began to talk about the lack of good quality cocaine in the Norwich area.
"Mr Hide volunteered relatively enthusiastically that cocaine was available and offered to get some from 'my man'."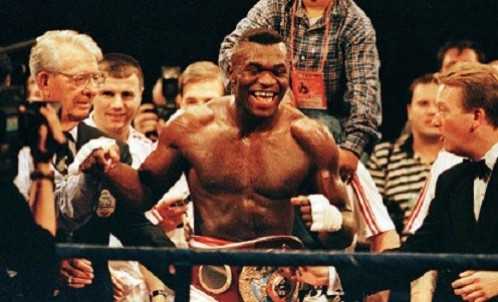 Hide and Sharman arranged to pick up 4g of the drug and gave it to the reporter. Tests revealed that the drugs were "absolute rubbish" and contained just 0.1498 grams of pure cocaine.
In court, a friend of Hide's described the 42-year-old defendant as a "pubescent boy in a grown man's body".
Martin Budworth, for Hide, also criticised the Sun on Sunday for the way it dealt with the incident.
He said: "This was not a case of crime fighting or exposing a criminal, this was a case of selling newspapers.
"If anybody instigated this offence, it was Mr Mahmood and his assistant."
Sharman, 22, of Poringland, near Norwich, was sentenced to 20 months in jail.