When Amir Khan was visibly hurt in the 11th round of his bout with Julio Diaz at the weekend there were clear instructions coming from his corner. New trainer Virgil Hunter was frantically waving his hands, screaming for his charge to use his feet and circle away from danger.
The warning signs had come in the fourth round when Khan was put on the canvas from a left hook from Diaz. Fortunately this was more of a glancing blow and the British fighter was merely caught off balance, rather than being seriously hurt.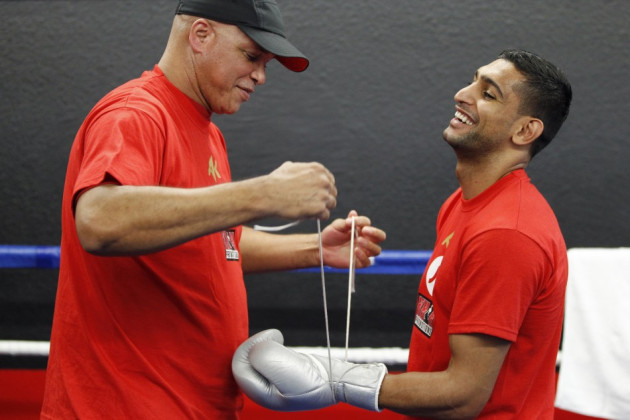 He responded well and was quickly back in control of the fight, using his superior hand speed and impressive foot work to stay at distance and then launch stinging attacks which included three or four punch combinations.
This is what Khan does best; he attacks with blurring speed, delivering a vast array of punches which his opponents find difficult to counter. However, it is not impossible, as Danny Garcia demonstrated with brutal efficiency last year and Diaz too had success when Khan attacked, seemingly landing the left hook at will.
It was this punch that had Khan in serious trouble towards the end of the fight. Caught in two minds as to whether box on the back foot or risk being countered while delivering his own volley of shots, he was badly hurt on numerous occasions.
This time though, instead of engaging and showing bravado, he listened to Hunter in his corner and somehow managed to survive by circling away from the left hand and keeping clear of danger.
After the contest Diaz was quick to praise his opponent for changing his style throughout the fight, though the Mexican-American also pointed out that Khan was making the same mistakes he expected.
"Amir Khan is a true warrior and he fights with a lot of heart. He made adjustments which I couldn't capitalise on. I could hear Virgil in the corner and every round he came out with something different but he made a lot of mistakes. We trained for those mistakes and I have to be honest he still made them. It worked just as we planned but you can't change a fighter overnight and Virgil only has him for a short time, so it's going to be a longer process."
While Diaz was unable to fully exploit the mistakes, the likes of Garcia, Lamont Peterson and Lucas Matthyse are at a level where the slightest miscalculation is punished. Khan is desperate to get back in the world title mix against these opponents but he must heed the words of warning from Hunter who made it clear that he needs to spend more time in America in order to iron out his flaws.
"I'm convinced now that in his own mind Amir knows he's got to work more and come to the gym more, and that he can't just go off between fights," explained Hunter, who works day in and day out with the number one super-middleweight in the world, Andre Ward.
"Amir has to acknowledge that right now he is at a disadvantage because of the distance between us. I see Amir for three months when he comes over here, so the opposition can creep ahead of you because all the top fighters are with their trainers all the time. It is something we are going to work on to see if we can bring him up to the level we need him to be at."
Khan previously complained that he was not able to spend as much time as he wanted with former trainer Freddie Roach because of the American's commitment to Manny Pacquiao, but now he has a trainer willing to dedicate himself completely to his fighter.
Hunter explained that weaknesses are not addressed during training camps but in the weeks following the fight. Unfortunately he will not get that opportunity with Khan who plans to remain in England, only heading out to America for a few weeks at a time.
"I will probably fly to San Francisco in between fights and do mini-camps. It's going to be difficult. My whole family's in England but I don't mind travelling back and forth," stated Khan, who admitted he was making the same mistakes that have cost him so dear in recent bouts.
"He caught me with a left hook but these are things we are going to work on. We will go back to the drawing board and work on the mistakes. I'm not a complete fighter but it's only my second fight with Virgil.
"It's going to take time. I know I started making the same old mistakes again but this is a fight I needed, a tough 12-round fight against a strong guy. I am going to improve as a fighter."
If Khan is to unify the light-welterweight division and eventually move up to 147lbs to challenge the likes of Floyd Mayweather and Adrien Broner, then he must make the decision to fully commit to Hunter.
The hugely respected trainer has worked tirelessly with Ward and has produced a fighter many rank among the best pound-for-pound boxers in the world. If 'King' Khan can remove his weaknesses and improve his defence, then there seems little reason why he cannot rule once again.