The situation regarding who will face Floyd Mayweather has become even more complicated with the revelation from Jeff Mayweather that he has been contacted by Manny Pacquiao's camp over making the long-awaited fight a reality.
It had seemed as though Mayweather would be facing interim WBC welterweight champion Robert Guerrero on May 4 in Las Vegas, only for the undefeated American to then announce on Twitter that Devon Alexander was the frontrunner.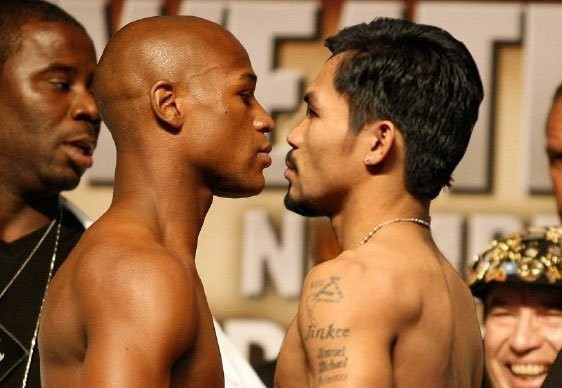 Alexander had pulled out of his bout with Kell Brook due to injury and it seemed as though he was now set to face Mayweather instead. However, promoter Eddie Hearn believes that he may still honour his contract to fight the undefeated Brit.
While it seems likely that it will still be one of these two fighters, Jeff Mayweather has admitted that he has received messages from the advisors of Pacquiao who are still said to be keen to secure a bout with Floyd.
Asked whether he thought Mayweather would be interested in facing Pacquiao, he said: "It's a possibility...I've been contacted by Manny's people personally and now they want the fight.
"They know that if it doesn't happen now it won't be worth anything. I got text messages from his advisor so it's a situation where I will talk to Floyd to see if that fight can potentially be made," Jeff Mayweather told proboxinginsider.com.
Last month Pacquiao's trainer Freddie Roach admitted that his fighter was unlikely to fight in America and that he had been made an offer to hold a bout in Dubai.
It seemed unlikely that Mayweather would fight anywhere outside Las Vegas, but his uncle has made it clear that should the fight be made then it would most likely be in Dubai because of the financial benefits.
"They don't have a position so they would either need to take what was offered or there wouldn't be a fight," added the former super featherweight world champion. "More than likely it would probably be Dubai, there is a whole load more money in Dubai so the chances are it would probably be there."
The highly respected trainer was also quizzed on why Guerrero was no longer the prime candidate to face Mayweather in May.
"He wanted $4million and Floyd said he would get $2.5m but he didn't want to take it. He didn't want it so Floyd moved on to the next person and he still might move onto someone else."