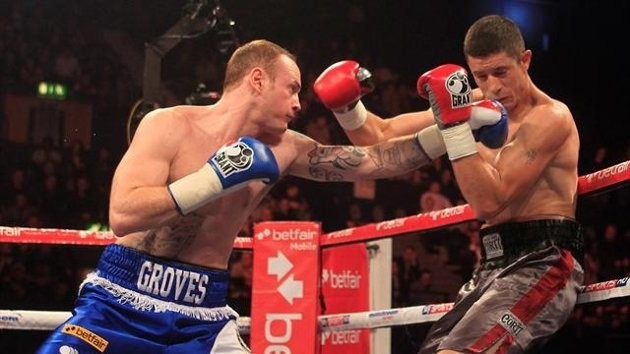 George Groves has revealed that he will be working with Irish trainer Paddy Fitzgerald for his upcoming world title fight against Carl Froch on 22 November.
The undefeated super middleweight split with long-time trainer Adam Booth late last week, the man credited with master minding the gameplan that saw Groves defeat bitter rival James DeGale.
Booth had worked with Groves since he turned professional and was considered crucial in his bid to overcome Froch and claim the IBF and WBA super middleweight titles.
However, Groves has appointed a man he knows well in Fitzpatrick who has worked in his corner on numerous occasions in the past.
"I am extremely happy to name Paddy Fitzpatrick as my new trainer going into what is the biggest fight of my life," said Groves.
"Paddy and I have worked closely together in the past and already have a very good relationship, one built over many years.
"Not only has he worked my corner for important fights, we have also spent a lot of time together when abroad on training camps, where Paddy has overseen a number of significant sessions.
"Although this is a fresh change for me, I'm working with someone I know and respect, and someone who knows my game inside out. We both know how the other works, so it won't take long to hit the ground running."
Fitzpatrick runs a gym in Swindon and is best known for having spent much of his training career working alongside Freddie Roach and Buddy McGirt at the Wild Card Gym in Los Angeles.
In recent times he has worked in the corner of both Groves and David Haye, and will now hope to help the British and Commonwealth super middleweight champion overcome Froch in Manchester.
"His experience and knowledge of the game is world-class and he is, without doubt, the perfect trainer to help me prepare for my next fight," added Groves.
"He has a great energy, both in the gym and on fight night, and I feel totally comfortable in his presence.
"I'm looking forward to working with Paddy on a full-time basis and I'm excited to start adding many more tools to my arsenal. By the time November 23 arrives, I'll be better than ever. And more than capable of dethroning Carl Froch."