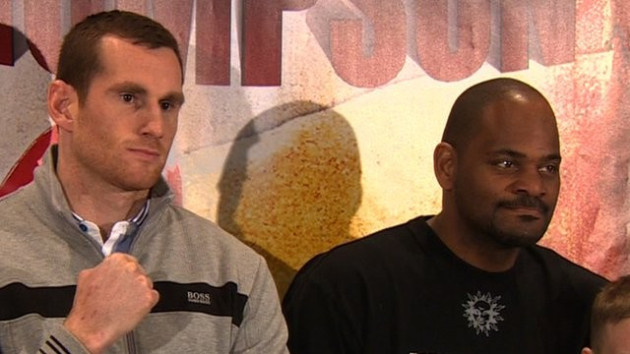 David Price aims to get his career back on track after a disastrous seven months that has seen him go from the Klitschkos natural successor to questioning whether to enter early retirement.
Back-to-back losses to Tony Thompson has seen the British heavyweight fade away from the limelight and left many considering whether he will ever be able to compete at world level.
The Liverpudlian first had his chin questioned after a seemingly glancing blow saw him fail to recover in the first fight with Thompson, before sheer exhaustion left him helpless as the veteran American secured another shock win in the fifth round.
Now Price is determined to bounce back and prove that he can be a contender in the heavyweight division. He is targeting the loser of the postponed domestic dust-up between David Haye and Tyson Fury, firmly believing that it will be the younger man that emerges with his first defeat.
"I want a fight in November then maybe again in December," Price told Sky Sports. "I could do with a couple of fights that are out of the way, not topping the bill in Liverpool all the time, massive occasions. And I need rounds, I need to be in ring for eight, 10 rounds, lose a couple of rounds here and there.
"I never got to have that because I was knocking everyone out. In a way I was a victim of my own power and there was always a chance of that happening.
"But this heavyweight division is wide open underneath the Klitschkos. There are opportunities, especially in this country. We've got those Haye, Fury, Dereck Chisora, myself and other fighters coming through.
"After I get a couple of wins, get back on my horse the more realistic opportunity would come against the loser of that Haye v Fury fight, ie, in my opinion, Tyson Fury.
"That's been a fight people have wanted to see for a long time, regardless of me getting beat or not. That will still be a big fight."
It had seemed as though Fury was destined to face Price when both were undefeated prospects but now the 30 year old realises he must first rebuild his career and without long-time trainer Franny Smith at his side.
The pair had worked together for a number of years but Price is now seeking a new trainer as he looks to resurrect his career in 2014.
"I'm speaking to different trainers and trying them out and I'll come to a conclusion in the next couple of weeks who is going to be the best man to take me forward," he said.
"Not only do I want a trainer I want someone who can guide me for the rest of my career, someone experienced.
"There are a lot of options for me because a lot of people know I've got the ability to go a long way but it's not a decision I want to rush."