Amir Khan is confident that there will be plenty of success for British boxers at the London Olympics as he claims he would be disappointed if we didn't win at least six medals.
The Team GB squad consists of 10 boxers, with seven men hoping to excel, while there are also three women who are also believed to stand a fantastic chance of medalling in London.
The trio of Nicola Adams, Natasha Jonas and Savannah Marshall are all held in high regard by trainer Rob McCracken and will have an opportunity to make history as women's boxing is accepted into the Olympics for the very first time.
Super heavyweight Anthony Joshua is one of the men to watch out for, while long-time amateur Tom Stalker is the man who will captain the team in London.
Andrew Selby, Luka Campbell, Fred Evans, Anthony Ogogo and Josh Taylor make up the rest of the team and Khan is confident that they will deal with the added pressure of competing in front of a home crowd.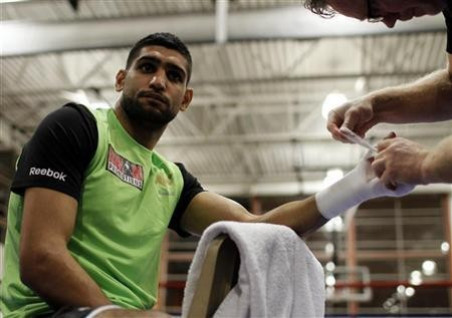 "The high expectations will bring pressure," Khan told the Daily Mail. "They will have to deal with all the media exposure, as I did, but as a group they can share that burden among them.
"So it will be disappointing if they don't come through with at least six medals and I would hope three of them will be gold."
"We have a women's world champion in Savannah Marshall and among the men it looks to me as if Joshua, Ogogo and Selby could go all the way.
"This is a fantastic opportunity for all of them, especially any of the men who want to turn professional. Athens was great for me, all the exposure and the fan base it built for me in Britain."
Khan returning from the Athens games with a silver medal and has since gone on to become a multiple time world champion and one of the most recognised fighters in the world.
The current crop will be hoping that they can go some way to emulate the achievement of Khan both as an amateur and a professional.