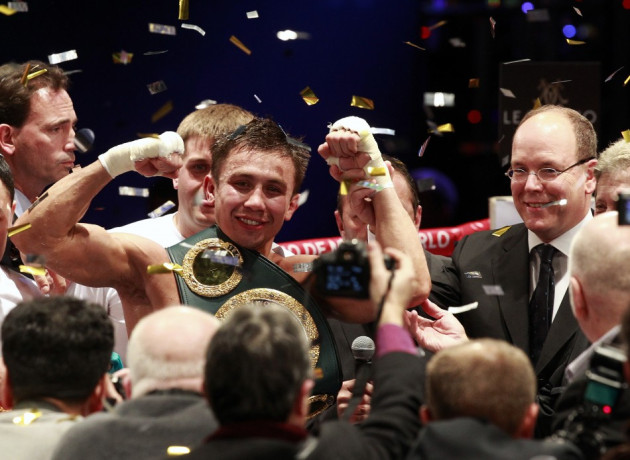 The middleweight division has always been awash with exciting fighters who can finish a contest with just one punch. From the granite fists of Roberto Duran to the brutal right hand of Tommy Hearns, fans have always taken to a fighter who can deliver fireworks.
Gerald McClellan and Julian Jackson produced 78 knockouts in their 86 victories, but know there is a new middleweight puncher making everyone sit up and take notice. Gennady Golovkin's vicious body shot that floored Matthew Macklin sent shockwaves around the boxing world as champions from 154-168 pounds suddenly feared for their titles.
The 31 year old from Kazakhstan was well known to many because of his outstanding achievements as an amateur. He won an Olympic silver medal in 2004 having defeated Andre Dirrell in the semi-final, while his knockout of Lucian Bute at the 2003 World Championships is a huge hit amongst boxing fans on youtube.
Some had questioned his ability as he amasses a record of 26 wins and no losses, stating that he was yet to fight a world class middleweight. But on Saturday night he silenced all critics as he delivered a punch perfect performance which ultimately left Matthew Macklin rolling around in agony as he was denied a world title at the third attempt.
Macklin was meant to be the man to push Golovkin for the first time, a fighter who had proved his class with impressive performances against Felix Sturm and Sergio Martinez. Yet he was left bloodied and bruised after just three rounds with a fighter who he declared to be the best fighter he'd ever fought.
But what is next for Golovkin? While there is little doubt that he is the new middleweight king, it will be difficult to secure unification bouts against the likes of Martinez or Daniel Geale. With his manager also declaring that he can fight anywhere between light and super middleweight, there are plenty of champions who will be ignoring the phone calls of Golovkin's team.
Yet there is one promoter who believes he represents a super-middleweight who will be prepared to step in the ring with Golovkin. Matchroom Sports' Eddie Hearn admitted that he would like to see the Kazakh in the ring with Carl Froch.
"Golovkin is one of most widely avoided fighters on the planet and fair play to Macklin for stepping up, but Golovkin is a freak of nature. He's a beast," Hearn told Sky Sports.
"According to HBO he'd be willing to step up to super-middleweight and a fight with Carl Froch would just be epic. Froch, granite chin, Golovkin one of the biggest pound-for-pound punchers in the world.
"Carl Froch will fight any man. Whilst Golovkin is largely avoided Froch will quite willingly step up and ideally that is a fight that could happen in the middle of 2014."
Froch has a reputation as a warrior, a boxer with a granite chin who never turns down a fight. A showdown with Golovkin, who boasts an 88.89% KO Ratio would be something very special.
Golovkin deserves to be in big fights and after his victory against Macklin he is sure to have an even bigger fan base both in Europe and in America. Let's just hope a bout with Froch and other super-middleweight stars can be made.