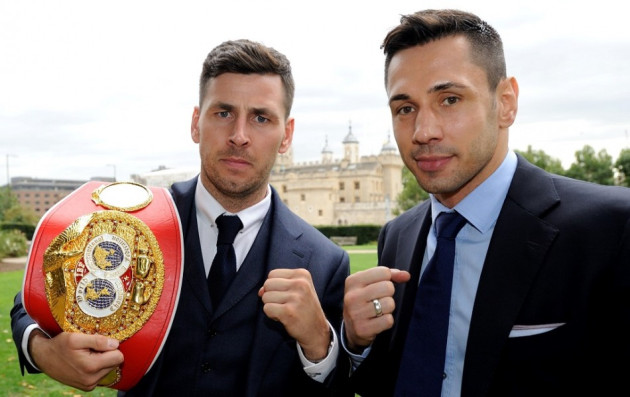 Martin Murray believes that Darren Barker will be able to succeed where he failed by claiming a victory over Felix Sturn in Germany.
The St. Helens man earned a draw with Sturm back in 2011 as he did to become a world champion and was hugely critical of the judges sat at ringside who he believed scored in the favour of the home fighter.
Sturm also claimed a controversial points victory over Matthew Macklin during his time as WBA champion and Germany has a reputation as being a notoriously difficult place to earn a decision.
However, Barker enters the contest as the IBF middleweight champion and Murray feels as though the Brit will face a major challenge to hold on to the belt he won in gritty fashion against Daniel Geale
"I think it's a tough fight for Barker to be honest with you. Look me and Macklin have been over, we have shown everybody how tough it is to get a decision in Germany," Murray told Sky Sports.
"To be honest I don't like Felix Sturm, he showed me no respect whatsoever in the build-up to the fight.
"After, he didn't even entertain a rematch with me. He just gave me a wide berth so the fact I've got that type of history with him, and obviously Barker's British and I want him to do well, I want Barker to win.
"I've said this before when he beat Daniel Geale, I didn't want him to win just because it sets up potentially big domestic fights with myself and the others which is great. No he deserves it, he's got a family. It's all about looking after yourself, looking after your family, making sure they're right and I really do want him to go over there and beat Sturm."
It was somewhat surprising that Barker decided to travel abroad for the first defence of his title but with Sturm now 34 years of age he may well feel as though the German's skills are just slightly fading.
There were signs he was in decline against Sam Soliman and Murray truly believes that Barker will emerge victorious on Saturday night in Stuttgart.
"I'm going to pick Barker. I think Sturm is fading dramatically," declared Murray. "If you watch the Soliman fight, he was shocking in the second half of the fight. His fight after that, which he stopped in four rounds, I think he was completely out of his depth the lad, completely out of his depth.
"This is Sturm's last chance. He knows that, he needs this belt, so he's going to be in the condition of his life and he's going to be ready for it, but I just think if Barker can just stick to the game plan and take him into the second half of the fight. I think Barker takes over there."