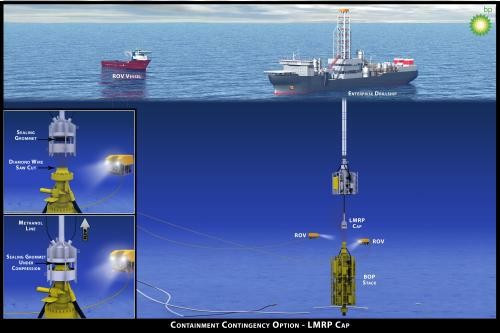 BP has announced today that oil and gas is being recieved through its latest attempts to cap the oil leak - known as the Lower Marine Riser Package (LMRP).
This follows the cutting and removal of the riser pipe from the top of the previously installed Blow-out Preventer and connecting it with the LMRP.
It is expected to take one or more days for the flow rates to stabilize and BP estimate that currently one twelth to one twentieth of the total oil is being siphoned (approx. 1,000 bpd).
However, optimisation of the system is expected to achieve more.
Shares in BP had a mixed week, with falls of 13 pct on Tuesday following a failed 'top-kill' but now approach the 440p, more than five per cent higher than yesterday.
Since the oil crisis began, shares in BP have fallen from 650p to as low as 430p.
"All of these operations are complex, involve risks and uncertainties, and have to be carried out by remotely operated vehicles (ROVs) at 5,000 feet under water. Systems such as the LMRP containment cap never before have been deployed at these depths and conditions. The containment system's efficiency, continued operation, and ability to contain the oil and gas cannot be assured." said BP.
"Work continues on the first relief well, which started on May 2, and the second relief well, which started on May 16."
The relief wells - seen as the 'gold standard' in returning things back to normal are estimated to take around three months to complete.
BP has spent more than one billion dollars so far on the failed containment of the oil spill which has been ongoing since 20 April.
Deepwater Horizon has been a deepwater oil drilling rig built in 2001 in South Korea by Transocean.