For months Brad Pitt and Angelina Jolie have been embroiled in a bitter battle over their divorce and the custody of their six children, but with the holiday season around the corner, the couple's children would surely want their parents to spend time together. According to a latest report, Pitt and Jolie's daughter Shiloh has been "begging" them to reunite.
"Shiloh has been begging Brad and Angelina for weeks to start being nice to each other," a source told OK magazine (via Hollywood life) sharing details about Pitt and Jolie's plans of spending Thanksgiving together with their children.
"Then [Shiloh] sent them both an emotional email asking for the family to spend Thanksgiving together. She let them know that it was what the kids were hoping for," the source added.
According to the report, due to the the repeated insistence of the 10-year-old, Jolie finally had to give in to her daughter's request and invite her estranged husband over for a family holiday dinner. "He thanked her for the invitation and she said 'I think it'll be good for us,'" a source aware of the situation was quoted as saying.
Unfortunately, the Thanksgiving reunion doesn't mean that all is well between Pitt and Jolie as the split is "as contentious as ever", warned the insider adding, "Brad and Angie know the kids need the security and stability right now."
Considering the not-so-pleasant exchanges between the pair since their split news broke in September, it is only natural for the Allied actor to be "apprehensive" about meeting with his estranged wife. But if reports are to be believed – the actor who had allegedly broken into tears upon meeting his children after the split – will go to any length to spend Thanksgiving with them.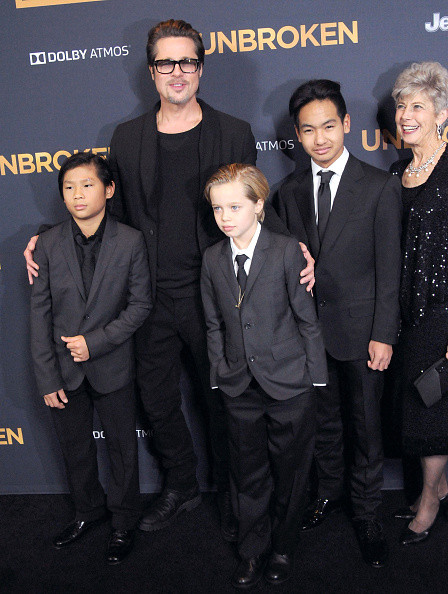 While the magazine report suggested that all the children including Pax, Zahara, and twins Vivienne and Knox wanted a reunion during the festivities, estrangement still seems to run between eldest son Maddox and 52-year-old Pitt.
Tensions flared between the couple after an alleged abuse incident between Pitt and 15-year-old Maddox aboard their private jet in September. Following an investigation both by the FBI and the Los Angeles County Department of Children and Family Services, charges against the actor have been dropped.
"The FBI has conducted a review of the circumstances and will not pursue further investigation," FBI spokeswoman Laura Eimiller said.