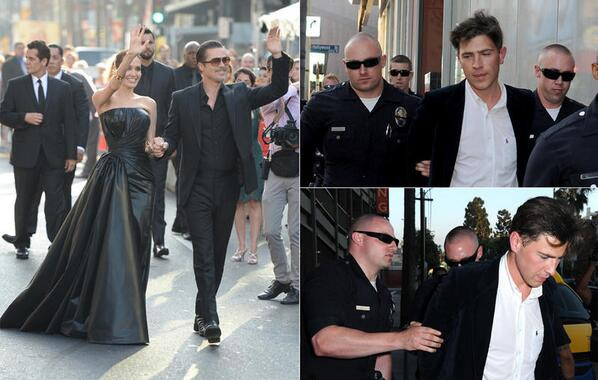 Notorious 'Red Carpet Pest' Vitalii Seduik struck again during the premiere of Angelina Jolie starrer Maleficent in Los Angeles on Wednesday (May 28) evening.
Jolie was attending the premiere with her partner Brad Pitt who was posing for photographs and signing autographs when, "some guy jumped over the barricades and made contact with Brad Pitt," Officer Nuria Vanegas of the Los Angeles Police Department told the Los Angeles Times.
According to the police, 25-year-old Seduik punched Pitt in the face.
Reportedly, Pitt appeared to be unharmed and he resumed signing autographs after the attack.
Sediuk is infamous for such red carpet antics and only last week tried to put his head up America Ferrera's gown at the Cannes 2014 premiere of How To Train Your Dragon 2, reports Ninemsn.
In 2012, Will Smith angrily slapped Sediuk on the face after he tried to kiss him on the lips on the red carpet at the Men in Black 3 premiere. Click here to watch.
In a video with Hip Hollywood, Sediuk apologised for his actions, saying: "I apologise for my behaviour... I think it was too much.
"I just wanted to do something extraordinary to impress him."
Vitalii added: "I don't kiss every man or women when I see them in the street" and said that should he meet Will again, he will "just shake his hand".
In 2013, he managed to sneak into the Grammy Awards and attempted to ambush singer Jennifer Lopez on stage as she presented Adele with an award.
Following his arrest over that prank, Sediuk told media outlets that he wanted people to know he is "not a crazy guy — I just think differently."