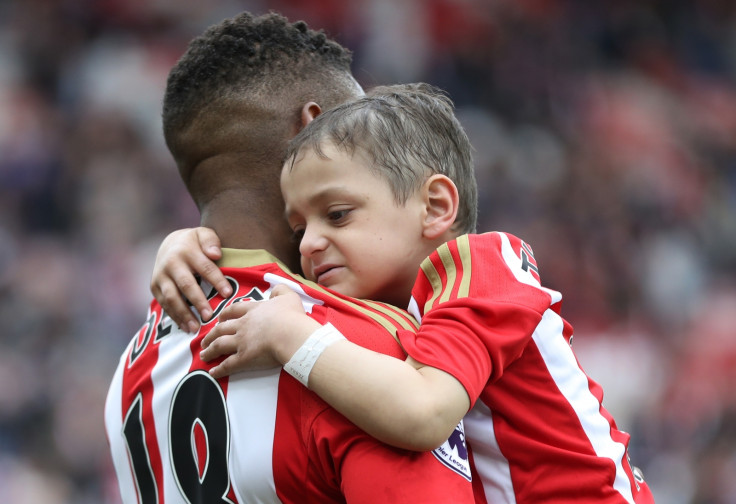 Crowds of mourners are expected to line the streets of a village in County Durham on Friday (14 July) for the funeral of Bradley Lowery.
The six-year-old Sunderland fan, who struck up a close friendship with star striker Jermain Defoe, died last Friday after a battle with a rare cancer.
His family said the funeral service is "open to everyone" and will be held at 11.15am in St Joseph's Church, located in Bradley's home village of Blackhall Colliery.
Speakers will broadcast the service outside to those unable to be inside the church. A private ceremony will then follow at a crematorium.
"You can wear what ever you want for the funeral but the family and friends have chosen the theme cancer has no colours. So they are wearing football tops - it doesn't matter what team or colour," the family said in a Facebook post.
Bradley was a mascot for Sunderland several times last season, during which he became close friends with Defoe.
The 34-year-old footballer, who left a training camp in Spain with his new club Bournemouth to attend the funeral, described the youngster as "my best friend" following his death.
The Premier League star broke down in tears during a press conference last week when asked about their special bond.
"There is not a day that goes past where I do not wake up in the morning and check my phone or think about little Bradley because his love is genuine and I can see it in his eyes. It is special," Defoe told reporters. Defoe was also guest of honour at a party thrown for Bradley's sixth birthday in May.
The youngster was diagnosed with neuroblastoma at 18 months old. He beat the cancer but it returned in July last year. At Christmas, his parents Gemma and Carl, said the illness was terminal.
"My brave boy has went with the angels today in mammy and daddies arms surrounded by his family," they wrote on Facebook on the day of his death.
"He was our little superhero and put the biggest fight up but he was needed else where. There are no words to describe how heart broken we are. Thank you everyone for all your support and kind words. Sleep tight baby boy and fly high with them angels."