There is a genuine fell good factor around British boxing after the recent success of the five amateur fighters that won medals at the London Olympics. While these proud fighters ponder the next step in their careers, one former Team GB member is now hoping to cause a stir on the professional stage.
Bradley Saunders went to the Beijing Olympics as a 22-year-old with high hopes of coming home with a medal. Having won bronze at the world championships, there was bitter disappointment when he lost to Frenchman Alex Vastine in the second round.
Some called for Saunders to make the move to the professional ranks to follow in the footsteps of fellow Beijing boxers James DeGale, Frankie Gavin, Billy Joe Saunders and David Price. However, the man from County Durham decided to remain amateur in order to gain more experience.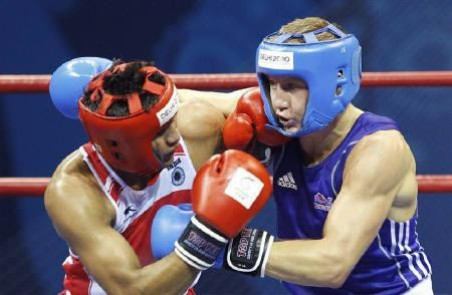 "I was a bit young and my head wasn't there. I was only playing at the game and I hadn't been to many tournaments," admits Saunders. "But now I have been to the Commonwealth Games and numerous championships. I have beaten Olympic champions and gained some vital experience against some great fighters."
The lure of fame and fortune always makes it hard for young fighters to turn down the offers from seasoned promoters. Yet, Saunders decided it was better to hone his skills against the very best amateur fighters in the world.
Over the next three years he continued to excel and demonstrate the sort of explosive power which makes him a genuine threat every time he steps between the ropes. Saunders won gold at the European Union Championships in Odenise and had been set to compete in London, before an injury halted his progress.
With the amateur competitions now employing three rounds, each consisting of three minutes, Saunders felt as though he was finally ready to turn professional. A life changing decision which he confirms he does not regret for one second.
"I had wanted to go professional two years before Beijing but I knew I wasn't ready. Competing against the very best in the world made it clear that I was ready and mature enough to make the step," reveals the 26-year-old.
"If I had turned pro after the Olympics then I would have been fighting journeyman, rather than the very best in the world at amateur level."
His first professional bout was at the iconic York Hall in Bethnal Green. It was straight in at the deep end with a six round contest being set-up against Jason Nesbitt. Saunders quickly overwhelmed his opponent and secured a technical knockout in the third round.
A first round demolition of Danny Dontchev followed; a result which even caught the hard-hitting Saunders by surprise.
"He might not have won many, but he just didn't get stopped. I think people thought it was a good way for me to get some rounds under my belt. But I got rid of him and I don't think anyone was expecting that."
Many young fighters feel they need to gain experience by going the distance at the start of their fledging careers. This is certainly not the case with Saunders.
"If I can get rid of them early I will," says the incredibly honest fighter. "I don't need to get in there for the rounds. I've done enough rounds in my lifetime."
A third win was soon delivered on the undercard of David Haye's controversial clash against Dereck Chisora. This time he would go the full six rounds. The reason being he was in with veteran toughman Kevin McCauley, a man who fought some three weight divisions above Saunders.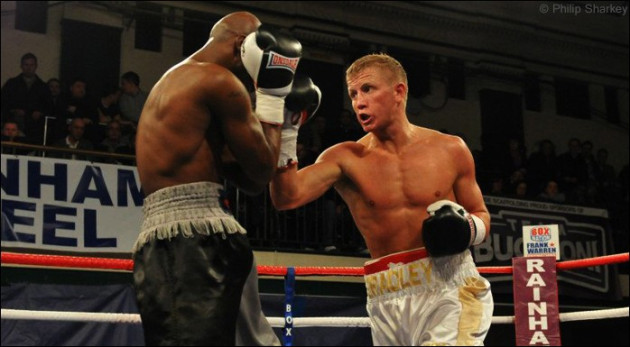 Yet he refused to be intimidated and was soon having his hand raised at the end of six pulsating rounds. Saunders admits that it was like 'hitting a brick wall' but he maintained his perfect record and now prepares for his fourth professional bout.
Sparring eight rounds, three times a week, for the last eight weeks with two-weight world champion Ricky Burns has got Saunders in the best shape possible.
With no full-time trainer, Saunders has been forced to train in Scotland with the WBO lightweight champion and has been holding his own. Featuring on the same card as the Scot on September 22 marks another big night in the career of the light-welterweight.
"Billy Nelson [Burns's trainer] has said that it's the best sparring that Ricky has ever had. It has got me in the best shape of my life and I feel like I could do six rounds on my head. I feel like I could genuinely so six rounds with anyone in the world," says the fighter who is clearly not short of confidence.
However, this should not be misinterpreted as arrogance. Saunders is still well aware that he has plenty to learn. The fact that he does not have a full-time trainer, and cannot find anywhere in the North East to set up a base, means that he has had to travel to find the best coaching.
As a proud Durham resident, there is nothing that Saunders would like more than to bring boxing to the North East. He feels the passionate fans need a fighter to get excited about. He feels he is that man.
"I can't thank my fans enough. They travel all over to watch me and I want to put the North East back on the map. I want to be a champion and I think the light-welterweight division is wide open so there is no reason why I cannot be the man to bring home a title."
Saunders has the talent and a refreshing honesty that makes him an instantly likeable character. With his girlfriend laughing at him for telling me he can't think of anything worse than watching a fight between two people he's never heard of, even if they are world champions, our time comes to an end and I am left in no doubt that the North East will soon be celebrating the good times again.