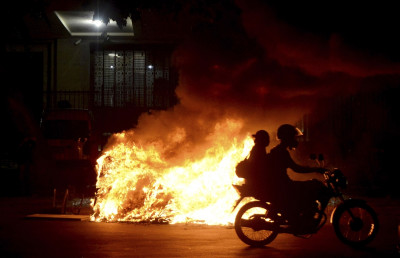 Violent clashes between Brazilian police and protesters erupted in Rio de Janeiro, as hundreds of people took to the streets to demonstrate against a hike in bus fares.
The initially peaceful rally turned violent after members of the Black Block anarchist group began jumping over turnstiles at Rio's main station.
At least two people were injured in the rush-hour violence that saw commuters caught up in the chaos.
A cameraman from the local Band TV suffered from head injuries after he was reportedly hit by either a stun grenade launched by police or a homemade explosive thrown by protesters.
The station said the cameraman, Santiago Andrade, was rushed to hospital where he remained in a serious condition after undergoing surgery.
BBC's correspondent in Rio, Wyre Davies tweeted:
The demonstration was sparked by a 9% increase in bus fares approved by Rio Mayor Eduardo Paes which becomes effective over the weekend.
It was the latest protest to hit Brazil after a wave of mass demonstrations engulfed the country last summer.
In June more than a million people took to the streets across the country, after another hike in public transportation fares was announced in Sao Paulo, Rio de Janeiro and other cities.
The increase was later reversed by local authorities but by then the protest movement had broadened its demands.
Demonstrators called for a boycott of the 2014 World Cup, on which they say the government has spent billions of dollars while neglecting social and public services, including health and education.
"If it was a public transportation fare hike when we had good health services and education, you wouldn't have this many people on the street," Thais Jorao, a 22-year-old protester, said. "On top of this you see spending with the World Cup, things that we really don't need. We want health, education, decent public transportation," he argued.
As the movement grew, an increasing number of rallies were violently hijacked by the anti-establishment Black Block anarchists.