Brazilian police have arrested the British chief executive of a Fifa partner company in Rio de Janeiro, Ray Whelan, as part of an investigation into the illegal sale of match tickets for the World Cup Finals.
Whelan, the former agent of Sir Bobby Charlton and chief executive of Match Hospitality, part-based in Cheadle, was arrested at the Copacabana Palace Hotel where many senior Fifa officials are staying, including under-fire president Sepp Blatter.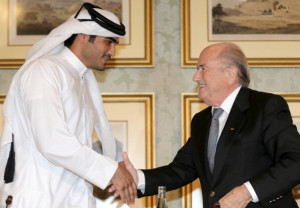 Match Hospitality, whose shareholders include a company headed by Sepp Blatter's nephew Philippe, paid $240 million to gain exclusive rights to sell corporate package deals for the 2010 and 2014 World Cup. The company received 445,500 tickets of the three million available at the 2014 Finals. Unsold tickets are supposed to be returned to Fifa and re-selling them for profit is illegal.
Last week police made 11 arrests of people suspected of illegally re-selling match tickets as part of a £50milllion scam. In the course of the arrests police seized tickets, currency, mobile phones and computers. An Algerian man, Mohamadou Lamine Fofana, was arrested as ring-leader. He runs a company linked to Match Hospitality but police believe the original source of the tickets was someone higher up Fifa's food chain.
Police tapped 50,000 phone calls as part of Operation Jules Rimet and Fifa handed over a list of phone numbers for its staff and service providers, including those for Match Hospitality. The company itself said: "Match Hospitality will be fully assisting the police in investigating the matter."
Whelan's arrest at the same hotel being used by Sepp Blatter - already under fire over the awarding of the 2022 World Cup to tiny Qatar - will heap further embarrassment on football's governing body. US Attorney Michael Garcia is to report back on his investigation into claims of corruption once the Finals reach a conclusion on Sunday.
Meanwhile, Ray Whelan is in custody and will be detained overnight at a Rio police station. Pedro Dantas, a spokesman for Rio's State Security Secretariat, said Whelan would have to "answer to the charges of alleged crime committed on Brazilian soil."