Football's governing body Fifa is embroiled in another scandal as it emerges that match tickets bearing the name of the son its vice-president have apparently been illegally offered for sale.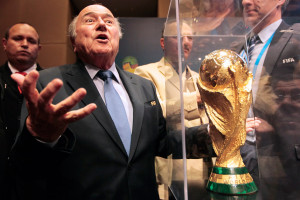 Humberto Grondona, son of Argentinian Football Association and Fifa vice-president Julio Grondona, denies wrongdoing, saying he did not sell the tickets for more than their face value. However even selling on tickets at their face value is also against Fifa regulations.
Humberto, an official with the Argentinian FA and technical advisor to Fifa, told Argentinian TV station TYC: 'I bought all of them for more than $9,000. I have a friend that is someone very well known in Argentina who wanted to come and I sold to him some of these tickets. He on his part gave the tickets to another friend, what they then did with the tickets I have no idea."
Each World Cup match ticket bears an electronic chip which enables them to be traced back to their original owner. Pictures of tickets apparently bearing Humberto Grondona's name are circulating widely on social media.
Fifa's media relations manager Delia Fischer told a news conference in Rio: 'We cannot comment on ongoing investigations but anyone who has violated the regulations will be sanctioned. I cannot go into specific cases, but we need to see the source of the original tickets and how the tickets ended up somewhere.'
This is the latest in a line of scandals to hit the football organisation.
Last week Brazilian police broke up a multi-million pound ticket-touting operation apparently being run by an Algerian, Mohamadou Lamine Fofana, from Copacabana Palace Hotel, where senior Fifa officials are based. Eleven people have been arrested. Grondona is not being linked to that investigation.
Fifa and its president, Sepp Blatter, are facing far more serious allegations about the decision to award Qatar the 2022 World Cup. US attorney Michael Garcia is expected to report on his investigation on Fifa's decision, after the World Cup finals on 13 July.