Brazil's former lower house speaker, Eduardo Cunha, was arrested on Wednesday (19 October) over alleged corruption charges. He was detained by the federal police in the capital city of Brasilia and transferred to the southern city of Curitiba, where federal judge Sergio Moro is investigating the case.
The ex-speaker has been accused of accepting millions in bribes from a company that won contracts with the state oil company Petrobras.
Moro, who is leading the investigation, said he had ordered the arrest because there was "a real possibility of [Mr Cunha] fleeing the country as he has resources hidden abroad".
He added that the 58-year-old politician hold dual citizenship – Brazilian and Italian – and it increases the risk of him trying to escape the legal procedure.
The court order, signed by the federal judge on Tuesday, allows for an indeterminate period of detention of Cunha while the investigation continues. However, he can appeal to the Supreme Court to be freed.
Cunha is now being questioned for a number of allegations, including taking bribes relating to Petrobras and Caixa Economica Federal – a state bank. The former politician had said that he had hidden around $2.3m (£1.87m) in Swiss bank accounts but prosecutors believe that is a portion of the total. However, Cunha has dismissed all the allegations and pleaded not guilty.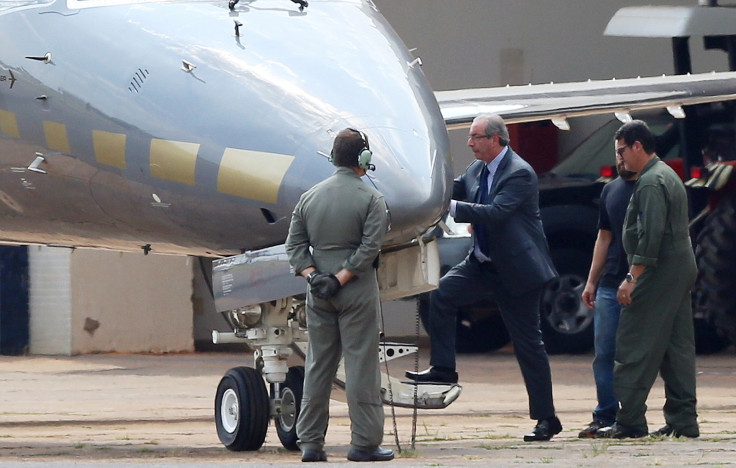 The ex-speaker, one of Brazil's most powerful politicians for many years, had led the impeachment process against President Dilma Rousseff, who was dismissed in August.
Cunha was removed from the lower house of Congress in September, losing his parliamentary immunity.
Cunha's prosecution has left many politicians in the country worried as during the proceedings against him in the Congress, he had threatened to reveal secrets and destroy the reputation of many of those who, in his opinion, had betrayed him. It is believed that this could put members of the new government of Michel Temer in danger.