Brazil's Lower House of Congress on Monday, 12 September removed former House speaker, Eduardo Cunha, who led former President Dilma Rousseff's impeachment proceedings, on corruption charges.
The Chamber of Deputies voted 450-10 to expel Cunha. He has been charged by the supreme court of the country for reportedly accepting millions in bribes on a drill ship contract for state run oil company, Petrobras. Prosecutors say that he stashed the millions he made in bribes in secret bank accounts in Switzerland, Wall Street Journal reported.
Lawmaker Rubens Bueno of the Popular Socialist Party said: "This shows that Brazil will no longer tolerate a politician who turned Congress into a business counter for bribes and favors." Bueno added that Cunha took kickbacks from companies and asked them to donate to campaigns of his allies.
According to Reuters, the once powerful Cunha is banned from politics for eight years and could be arrested as he has lost all the privileges and legal protections given to sitting lawmakers.
However, Cunha has firmly denied the allegations saying that he was being wronged as he appeared teary eyed in the last attempt to swing the vote in his favor on Monday evening. He said, "Where is the proof? They didn't produce any proof. None of you know the process."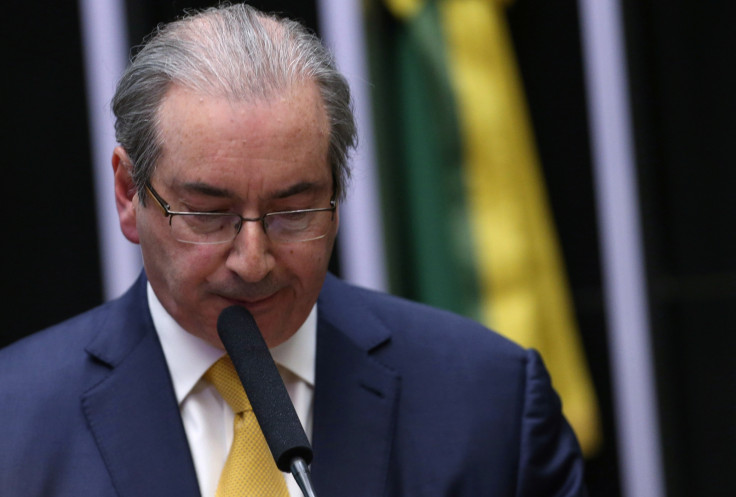 An ethics committee read out a report in front of the chamber to prove the existence of his accounts and assets abroad.
His ouster has left many politicians in the country worried. Cunha has threatened to take down others by disclosing corruption cases and this could put members of the new government of Michel Temer in danger.
About 60% of the 513 lawmakers in Brazil's Lower House of Congress are under investigation for corruption and many other allegations, watchdog group Transparency Brazil said.