A couple who ran a £4m cannabis empire after the deaths of their two young daughters have been jailed for a combined total of eight years.
Darren Wright, 47, and his wife Debra, 48, formerly of Herne Bay, Kent, fled to Costa Del Sol after police became suspicious.
The pair turned to drugs following the death of their four-year-old daughter Chloe in 2004 and then their elder daughter Ella, aged nine, three years later.
The husband and wife said how they spiralled into depression following the deaths of their daughters and were forced to pay thousands of pounds for Chloe's cancer treatment.
The Wrights said they became desperate after they remortgaged their home and managed to raise more than £260,000 from donations to send Chloe to Texas for treatment. That treatment, which was at an experimental stage, failed and she died of a rare form of cancer called rhabdomysarcoma.
Three years later, their grief worsened with the loss of Ella. The couple said she died after contracting the staphylococcus bacteria after a trip to the hospital.
Echong the popular TV show Breaking Bad - in which a terminally ill teacher produces methamphetamine to help pay for his medical bills - the couple produced £4m of cannabis at seven factories across Kent, using Vietnamese illegal immigrants as cheap labour.
They were tracked down after they fled police and were extradited from Spain.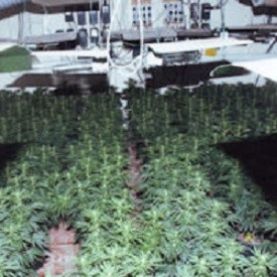 Mr Wright was sentenced to five years and eight months. His wife received three years.
Judge Carroll told him: "After the tragedy of your daughters' deaths you went off the rails and became a cannabis user but I cannot accept it is the main reason for your involvement.
"It may have affected your judgment and made you more vulnerable but you were an extremely active and involved conspirator."
DC Donna Hopper said: "It is estimated that the potential income from these factories was within the region of £4m with some of the factories containing around 2,000 plants. It was a sophisticated setup managed by Vietnamese illegal immigrants who had to live in cramped and dangerous conditions."