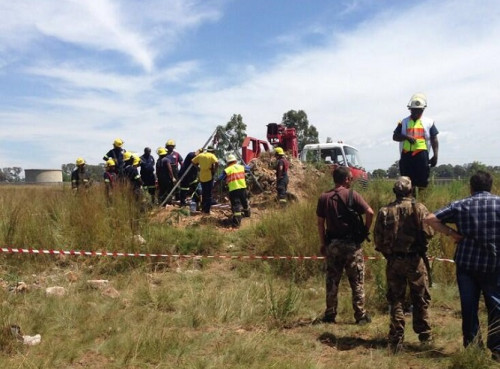 More than 200 illegal miners are reported trapped in an underground gold shaft in South Africa.
Rescue workers are attempting to reach the miners, who are trapped in an abandoned shaft in Benoni, a city on the East Rand in Gauteng province, east of Johannesburg.
An emergency services spokesman said a call was received on Sunday alerting authorities to the people trapped underground.
Rescuers are communicating with a group of about 30 miners trapped by boulders that fell below the surface.
"In the first emergency briefing it was identified that approximately 30 people are trapped towards the top of the old shaft and the rest down a steep tunnel," said Werner Vermaak, of ER24 Emergency Services.
"They told us there are about 200 others trapped further below. Emergency rescue services are waiting for mine rescue services to assist."
"At this stage we are not sure how many miners are injured. Once they are freed medical workers will start to assess them and proved treatment where necessary."
Heavily armed police offers were at the scene of the shaft as rescue workers tried to reach the miners trapped further below.
"In some areas you can still hear them and speak to them," Vermaak added.
"However, they will have to open the area first to extricate them and find out how many are injured."