Britain is wooing China to increase trade as Beijing has pressed forward with its ambitious Silk Road plan aimed at developing worldwide growth.
Chinese President Xi Jingping pledged $124bn (£96.25) for the plans on Sunday (14 May), which will invest heavily in global infrastructure and open up international trade routes.
The Silk Road programme, also known as the Belt and the Road initiative, will span Asia, Africa and Europe with the Chinese saying it will forge a path for world peace and end diplomatic power struggles.
Chancellor Philip Hammond was in Beijing for a two-day summit on the plans in the hope he could convince the Chinese that Britain's departure from the EU does not mean it is turning its back on trade.
"It is my belief that Britain, lying at the western end of the Belt and Road, is a natural partner in this endeavour," he said, reported Reuters.
"Britain has for centuries been one of the strongest advocates on an open global trading system."
He added that Britain could be a natural partner for China in delivering infrastructure and assisting with financing deals.
"As we embark on a new chapter in our history, as we leave the European Union, we want to maintain a close and open trading partnership with our European neighbours, and at the same time pursue our ambition to secure free trade agreements around the world with new partners and old allies alike," Hammond said.
"Our ambition is for more trade, not less trade, and China clearly shares this ambition."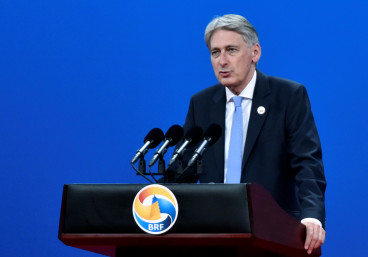 Leaders from 28 other countries have attended the forum, but some have voiced criticism that the projects will saddle countries with unmanageable debts to China and in turn increasing their global dominance.
China has rejected those claims saying that the scheme is only aimed at promoting prosperity.
"What we hope to create is a big family of harmonious co-existence," Xi said at the summit.
"China is willing to share its development experience with all countries. We will not interfere in other countries' internal affairs. We will not export our system of society and development model, and even more will not impose our views on others.
"In advancing the Belt and Road, we will not re-tread the old path of games between foes. Instead we will create a new model of cooperation and mutual benefit."