Troops from the US, Japan, France and the UK resumed amphibious drills in the western Pacific on Saturday (13 May). The first-ever four-nation drills were suspended a day earlier after a French landing craft ran aground just offshore, damaging one of its propellers.
The joint drills, led by French amphibious assault carrier Mistral, include Japanese soldiers practising rubber craft raids. US marines along with the French troops will conduct live-fire training on Sunday, Lieutenant Joshua Hays, a spokesman for the US 3<sup>rd Marine Division, said.
The week-long drills are being held on and around the islands of Tinian – administered by the US – and Guam, located about 2,500km (1,553 miles) south of the Japanese capital Tokyo.
Forty troops and 160 sailors from Japan are participating in the drills, which also feature two French ships that are currently deployed to the Indian and Pacific oceans for four months. Along with them, 70 British troops and UK helicopters are deployed with one of the French ships for the exercise, seen as a display of military power aimed at sending a tough message to China.
The drills come at a time when Beijing is extending its influence beyond its coastal waters and the South China Sea into the Pacific. The exercise is likely to upset China as its military strength grows with the addition of power-projecting aircraft carriers to sail the international waterway.
The drills are also intended to show support for the free passage of vessels in international waters amid fears that China may restrict access to foreign navies in the disputed South China Sea.
The French navy is wary of China's intentions as Paris controls several islands like New Caledonia and French Polynesia in the Pacific.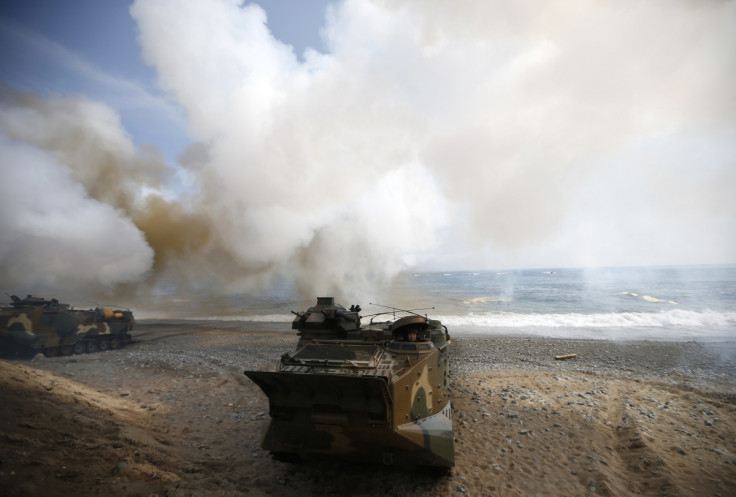 The drills come amid rising tensions on the Korean peninsula. The Mistral docked in Japan maritime Self Defence Force's naval base in Sasebo in Nagasaki prefecture just hours after North Korea test-fired a ballistic missile on 29 April, defying intense pressure from the US and China, Pyongyang's main ally.
The drills are believed to pile more pressure on China as the US has already been urging it to step up and do more to rein in North Korea.