North Korea on Sunday (14 May) conducted another missile launch after two failed attempts in April, US and South Korean military said. The launch comes amid the volatile situation in the Korean Peninsula.
South Korean military said that the missile flew some 700km after being test-fired from a site north of Pyongyang, which shows the test was successful.
"North Korea fired an unidentified missile at around 5:27am [local time] today from an area in the vicinity of Kusong, North Pyongan Province," South Korea's Joint Chiefs of Staff said in a statement soon after the missile test, Yonhap news agency wrote.
Confirming the test, US Pacific Command said it was trying to assess the type of missile fired and added that the the flight of the projectile "was not consistent with an intercontinental ballistic missile".
"US Pacific Command is fully committed to working closely with our Republic of Korea and Japanese allies to maintain security," it added.
Japan's Defense Minister Tomomi Inada said that the projectile could be a new type of missile as it reached an altitude of more than 2,000km and flew for 30 minutes before falling in the Sea of Japan, about 400km from the east coast of North Korea, Reuters reported.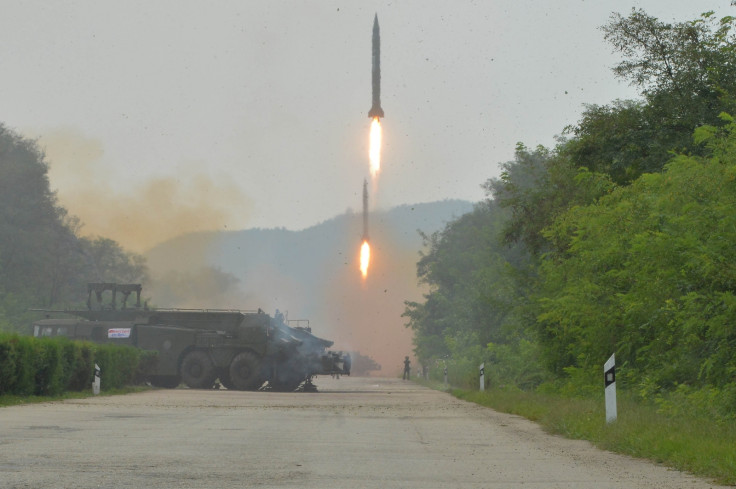 South Korea's newly-elected president, Moon Jae-in, immediately convened an emergency meeting of the National Security Council (NSC) on the latest missile launch. Moon had said in his victory speech that he was willing to talk to the Kim Jong-un regime in Pyongyang to sort tensions between the two Koreas.
However, Moon strongly condemned the latest missile launch on Sunday, terming it as a grave threat to regional security and a clear violation of the United Nations Security Council resolutions.
The missile launch comes just a day after the North urged the UN to stop pressing more sanctions against them. The reclusive regime has, in the past, criticised the UN and the US for isolating the country economically and politically through these sanctions. The regime has also slammed US militarisation in the Korean Peninsula, especially in South Korea and Japan, and termed it as the reason for its ambitious nuclear programme.
The North had reportedly test-launched a Pukguksong-2 intermediate-range ballistic missile (IRBM), also known as KN-15, from the same site near Kusong on 12 February.