In the wake of the UK people's momentous vote to exit the European Union (EU), many other European capital cities have been vying like beauties at a pageant for the attentions of finance and technology companies currently based in London. Would you like to work in Dublin, Amsterdam, Paris or Frankfurt?
At the heart of the uncertainty over London's current world and European finance crown is the issue of "passporting" of financial services from the UK throughout Europe. Passporting has meant that finance companies, like banks, insurers and asset managers, have up to now been able to sell all manner of financial services like trading, insurance and fund management directly from a base in London, as part of the common market for traded goods and services.
However, if the UK lose these passporting rights as part of their negotiated exit from the EU, then UK-based finance companies will need to have a significant base in a country still in the European Union, and preferably in the Eurozone.
While the issue of passporting financial services will presumably take years for the UK and EU to resolve, banks and other financial service companies in London are not sitting on their hands. Already, companies such as HSBC and the American bank JP Morgan have stated their intention to move jobs away from London to Paris (where HSBC already has a significant base following their acquisition of the French bank CCF some years ago), or elsewhere in Europe.
This is very important for the future of the UK economy, given that over 360,000 employees are directly employed in the London financial services sector (Chart 1), with many more jobs than that supported indirectly.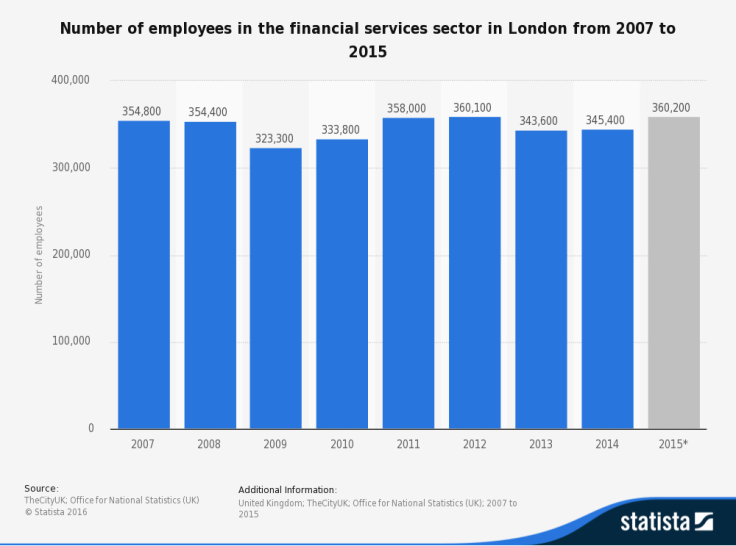 This is why a number of European capital cities have started a concerted campaign to tempt these companies to move offices and highly-paid finance jobs to them, away from London. They would like a larger slice of the economic growth and tax revenues that come from this key engine of the UK's economy.
London starts way out in front
London starts today as the pre-eminent financial centre in the world, ahead even of other global powerhouses such as New York, Singapore and Hong Kong (Chart 2).
However, this only remains true while the UK remains a member of the European Union, with access to the EU's single market for goods and services. I cannot emphasise enough how uncertain the current landscape is for financial services in the future in London, as it is probably the single industry most affected potentially by the UK's forthcoming exit from the EU.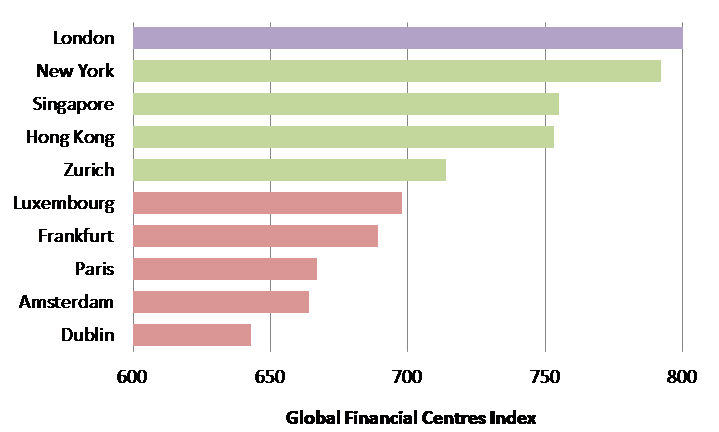 What is already becoming clear is that banks and other financial institutions had already reined back on hiring plans in London even pre-Referendum, a situation that will likely only worsen in the near-term.
Other European capital cities have some cards to play: firstly, only Geneva and Zurich in Switzerland (i.e. outside the EU but part of the European Economic Area) are more expensive to live in than London (Chart 3).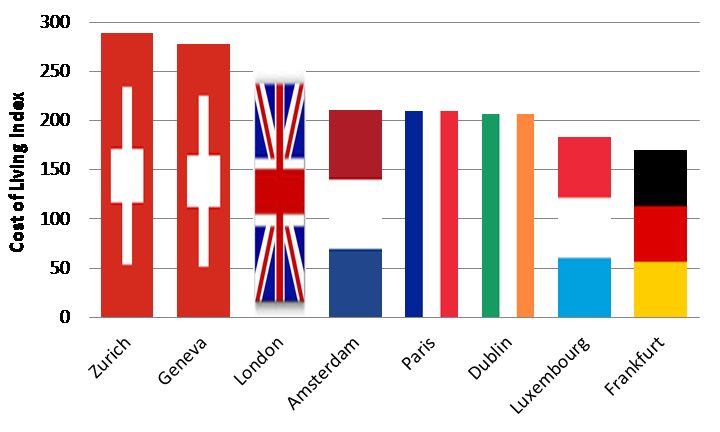 On this single measure, Frankfurt would appear the most appealing city to live in, as its cost of living is around 30% cheaper than in London overall.
Surveys point to the popularity of New York, Singapore, Hong Kong
Recruitment firm Astbury Marsden released the results of a survey of London finance professionals, which highlighted New York, Singapore and Hong Kong as the cities that current London finance employees see as the biggest future centres of financial services, and thus would prefer to move to (Chart 4).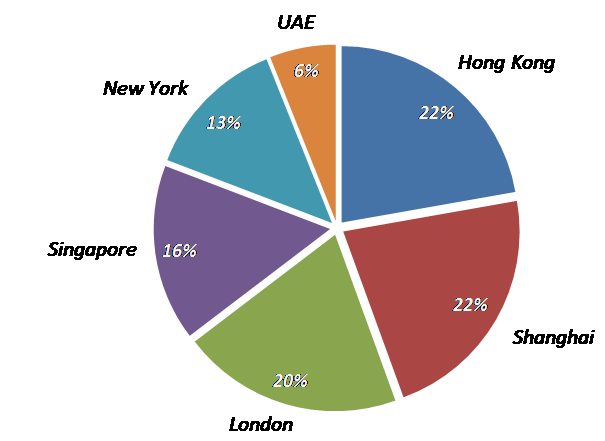 So it may not actually be European capital cities that benefit most from any decline in London's standing as the premier global financial capital, but rather Asian cities such as Hong Kong and Singapore, given the expected growth in demand for financial services in China and other fast-growing Asian countries.
Don't count London out just yet
Ultimately, the most important single factor which will determine where the European financial capital will be located in future is going to be availability of talent, both in terms of financial and technology expertise.
In my humble opinion, London still has a lot going for it, as younger professionals from around the world are still attracted to its vibrant, cosmopolitan way of life and the availability of relatively highly-paid, fulfilling jobs. These are not advantages that will disappear overnight.
This is a key factor that other European capitals, no matter their individual attractions, will struggle to replicate over the next couple of years.
In addition, we should not expect the UK government to stand idly by and watch their finance crown being snatched away: already, Chancellor Osborne has discussed lowering the UKs corporation tax rate (on companies) to just 15% (which would be virtually the lowest anywhere in Europe). Who knows what other business-friendly measures the Government might take to keep jobs in the UK?