England, Wales and Northern Ireland have all managed to qualify for the knockout stages of Euro 2016, with optimism high that they can progress further. Wales and Northern Ireland face each other in Paris on 25 June, guaranteeing one of them a place in the quarter finals. England on the other hand will fancy their chances against an Iceland team ranked 34th in the world when they meet two days later.
Who could benefit from continued home nations' success?
Looking at the business world, there are a number of areas where companies could profit from a good run by the three home nation teams. I would concentrate on companies in the following areas:
Sports retail: i.e. companies selling replica shirts, balls and footwear.
Branded sportswear makers: those making the official replica kits and football paraphernalia.
Pub chains: judging from the crowds in the pubs every time a home nations game is on the television, pubs should clearly benefit.
Bookmakers: football betting has clearly been a huge winner from the Euros.
Media: Bigger TV audiences for Euro 2016 games mean bumper advertising revenues for the TV companies showing the games.
Takeaway food: Pizzas for sharing and other takeaway food are much in demand for football nights in with friends.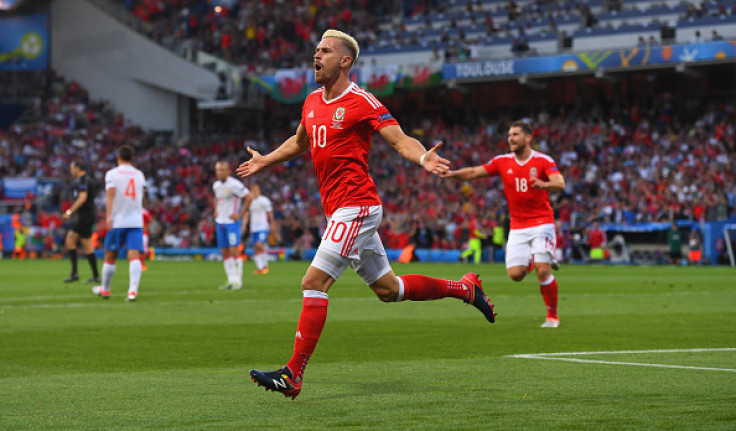 1) Sports retailers: JD Sports, Sports Direct
The most obvious beneficiaries are the sports retailers JD Sports (UK code: JD.) and Sports Direct (UK code: SPD).
In fact, JD Sports even stated just last week that they had been recently benefiting from "a further boost to sales from the Uefa Euro 2016 Tournament", which has boosted their profitability.
Sports Direct has been in the news this month as founder Mike Ashley appeared in front of a House of Commons committee to discuss the group's controversial employment practices. But this has probably taken the limelight away from what should be a strong trading performance for the retailer this summer.
And let us not forget, later on this summer we also have another huge sporting event, the Rio Olympic Games, which could trigger further enthusiasm for sports in general, including disciplines where Team GB have been traditionally strong like track and road cycling (think Halfords, UK code HFD).
2) Sportswear makers: Adidas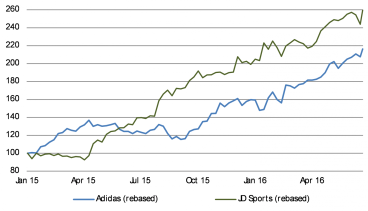 Who makes the kit for the Wales football team? The sports brand Adidas which is listed on the Xetra Stock Exchange in Germany (German code: ADS), who also make the official Euro tournament football.
Just like JD Sports, Adidas has performed strongly in share price terms since the beginning of 2015, up nearly 100% over the last year and a half (Chart 1).
3) Pub chains: JD Wetherspoon, Greene King
Pubs around the country have been full to brimming every time a home nation game has been shown – that has got to be good news for pub chains such as JD Wetherspoon (UK code: JDW) and Greene King (UK code: GNK).
As an example of the boost to pub drink sales, Welsh pubs recorded an impressive 41% rise in takings between 5pm and midnight on the night of the Wales-England football game, compared to an average Thursday in June. In England, the equivalent increase was 32%, so good, but not as good as in Wales.
4) Bookmakers: William Hill, Paddy Power Betfair, Ladbrokes
Bookmakers should be making hay from the Euro 2016 championships, judging by the avalanche on in-play online betting advertisements that are shown at each half-time.
The three main listed UK bookmakers are: Paddy Power Betfair (UK code: PPB), William Hill (UK code: WMH) and Ladbrokes (UK code: LAD).
Online betting rivals Bwin has previously stated it expected the Euro 2016 tournament to drive its growth this year.
5) Media (Advertising): ITV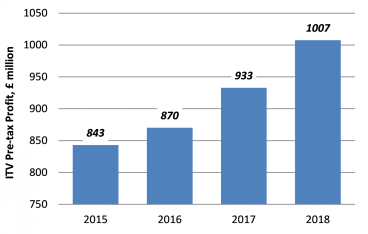 Well, the TV broadcasting rights for the Euros are being shared by the BBC and ITV. So, the longer the Home Nations remain in the tournament, the better for ITV's (UK code: ITV) advertising revenues.
Back in March at the time of their last results announcement, the TV broadcaster predicted it would outperform the UK TV advertising market this year, boosted in particular by strong advertising revenues around Euro 2016.
Note that ITV is being forecast strong growth in pre-tax profits over the next three years, as a function of advertising growth as well as growth in sales of its TV productions.
6) Takeaway Food: Domino's Pizza, Just Eat
On those football nights when you want to share some quick and easy food with your mates while gathered around the box, takeaway food specialists Domino's Pizza UK (UK code: DOM) and Just Eat (code: JE.) should profit from a boom in online and telephone orders.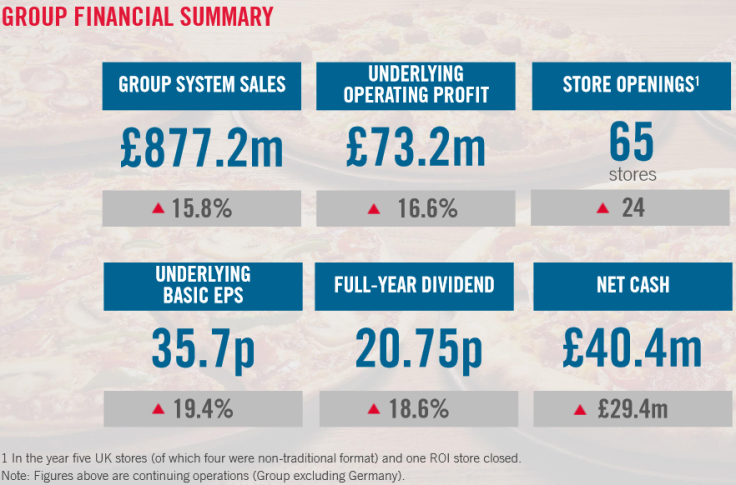 Domino's Pizza UK, which runs all the franchises in the UK, has enjoyed a phenomenal run of growth over the last few years, posting 16% growth in sales in 2015 (Chart 3).
Of all of these companies, I find both Sports Direct and ITV of particular interest, as I expect them to continue to generate decent growth while currently trading at attractive valuation levels.