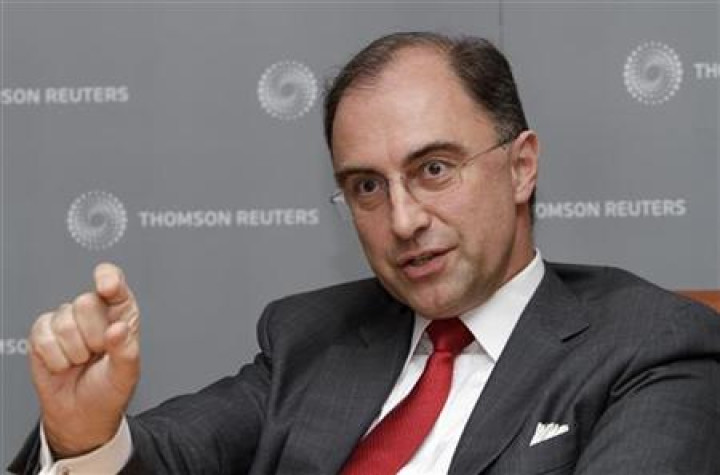 A Brexit would cause an "implosion" of the European Union claims Xavier Rolet, chief executive of the London Stock Exchange. He says in the event of the UK exiting the EU, the US would be forced to intervene in order to put "Humpty Dumpty back together again", referencing the Marshall Plan at the time of the Second World War, designed to help Europe regain its economic feet.
When asked how the US would react in the event of a Brexit, Rolet said, "Well, they're not going to send tanks, but having spent the last 70 years or so supporting a Europe at peace... you've got to do something about it, you're the superpower and you cannot have an implosion of the EU. That is bad for the US."
The LSE chief said Brexit could cause a shift in geopolitical allegiances. "It will mean an advantage for Russia, it will mean a reassessment of the value of the UK relationship and the European relationship by China, and it will mean that the United States has got to come back in and intervene", he explained.
Rolet is one of the 200 business leaders who signed a high-profile letter in February that did not favour a Brexit. Opining that such an event would be "devastating" he said, "UK leaving the European Union is the end of the European Union."
"I think this would be a geopolitical event that would reverberate way beyond the European Union. I think it would be devastating to the economy of the United Kingdom, and would not be good for anyone with their headquarters in the European Union. It basically leaves a competitive north and highly indebted, uncompetitive south", Rolet said, according to The Telegraph.
His statement comes ahead of the 23 June poll which will the people of Britain if they want to remain with the EU or leave it. "It's not business's role to tell the electorate how to vote. But it's not illegitimate for business to say, 'if this happens, that's what we think the consequence could be. In my humble opinion, in the area of clearing, which basically drives the bulk of our flows... the decision to leave the EU would be beyond devastating for the City of London", Rolet added.