The bodies of friends Dan Nicholls and Freddie Reynolds who disappeared after a night out in Brighton went tragically wrong have both been found.
A body washed up in Rottingdean three miles from where the two men went missing is believed to be that of Nicholls, 23. Yesterday the body of his friend, 24-year-old dispensary technician Reynolds, was found at nearby Saltdean.
The two young men, former flat-mates, were on a night out with three friends when they disappeared on Friday night. Detective Chief Inspector Carwyn Hughes said Nicholls stood by the water's edge for a dare.
"Five of the friends went to the seafront and Dan took up the dare and was at the water's edge when we are told a wave hit him, knocking him off his feet and he was taken out to sea. On seeing this, Freddie, with another friend, started to strip and Freddie dived in to rescue Dan but was also swept out," said Hughes.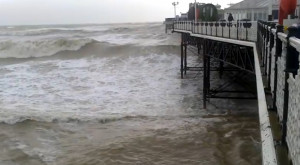 "Their shocked friends tried to enter the water but were beaten back by the waves. Tragically they saw Dan and Freddie together before they lost sight of them and called for the help of emergency services."
Det Ch Insp Hughes added: "This is a tragic incident and we are supporting Freddie and Dan's families."
In a statement the family of Freddie Reynolds thanked everyone who had been involved in the search, including the coastguard, Sussex Police and local lifeboats.
"Freddie was a very loyal and brilliant friend," said the Reynolds family. "He was always looking out for his friends and family and people loved to be around him. He was incredibly funny and loved a joke and a banter around the dinner table."
The Nicholls family said of Dan: "He was quick and witty with lots of friends to whom he was close and loyal. He loved music which he both made and produced."
Sussex Police said: "The sea was gale force nine and very dangerous. What was a bit of fun had tragic consequences in this case. We would emphasise that people should keep away from the sea when it is so dangerous."