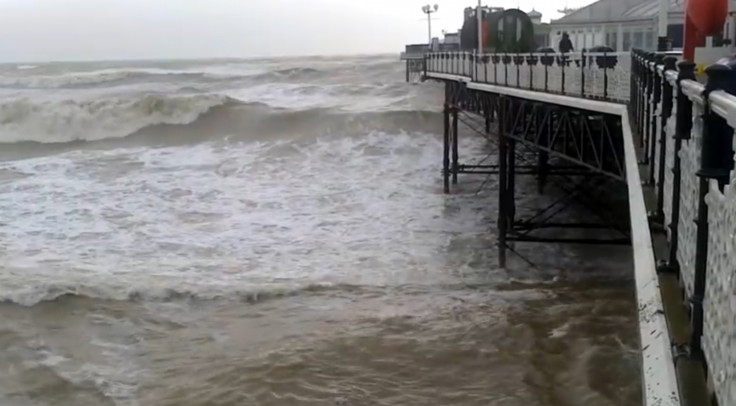 A body has found in Saltdean after two men from Brighton were feared to have drowned after a dare.
Dan Nicholls, 23, of Florence Road, and Freddie Reynolds, 24, of Buckingham Place, were enjoying a night out in the city with seven friends, when they walked to the water's edge near Palace Pier.
It is believed Nicholls was swept away, due to severe weather in the sea off the coast of the Sussex resort, and Reynolds attempted to rescue him.
A body found in Saltdean, has not been formally identified but is thought to be that of one of the friends.
Det Ch Insp Carwyn Hughes, of Sussex Police, said: "Initial investigations show that during their night out there had been a dare to stand by the sea, with Dan volunteering.
"Five of the friends went to the seafront and Dan took up the dare and was at the water's edge when we are told a wave hit him, knocking him off his feet and he was taken out to sea.
"On seeing this Freddie, with another friend, started to strip and Freddie dived in to rescue Dan but was also swept out," he said.
"Their shocked friends tried to enter the water but were beaten back by the waves. Tragically they saw Dan and Freddie together before they lost sight of them and called for the help of emergency services. The sea was gale force nine and very dangerous."
Det Ch Insp Hughes said the friends had discussed the dare before seeing the ferocity of the waves.
The search had been co-ordinated throughout the night by the coastguard with two all-weather lifeboats, a rescue helicopter and two shoreline rescue teams from Shoreham and Newhaven.
Volunteer lifeboat crews resumed searches close to the shoreline at first light, although the helicopter crews returned to base having "exhausted all possible options", the coastguard said.
Earlier, a coastguard spokesman said: "The conditions for searching overnight were awful - it was pitch black and the sea was extremely choppy. It was very difficult to search.
"The helicopter and the all-weather lifeboats searched the area overnight but started to stand down at about 04:30. They felt they had done all they could."
It was earier feared that the bodies would not found due to the extreme weather conditions.
According to the Royal National Lifeboat Institution (RNLI), 167 people drowned off the British coastline in 2013.
Last year the RNLI warned people in Brighton of the perils of drinking and swimming after two incidents in which people got into difficulty and had to be rescued. It is unclear whether alcohol was a factor in last night's incident.