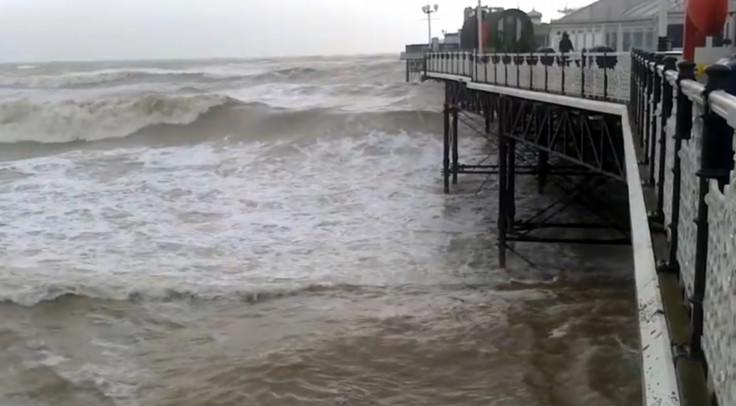 A night out in Brighton has ended in tragedy for two men who are thought to have jumped into the sea near Palace Pier and got swept away, in what the Maritime and Coastguard Agency describes as being terrible conditions.
The men were among a party of four, all in their 20s, who had a night out in town before heading to the sea. The other two men struggled back to shore at about 1am and reported their companions' disappearance to the coastguard.
A five-hour search of the shore between the Marina and West Pier was conducted involving helicopters and lifeboats from Shoreham and Newhaven but the search has now been scaled back and has become a recovery operation.
According to UK coastguard controller Matt Smith winds reached severe gale force nine with extremely high waves.
"The conditions for searching overnight were awful," said a spokesman for the coastguard. "It was pitch-black and the sea was extremely choppy. It was very difficult to search.
"The helicopter and the all-weather lifeboats searched the area overnight but started to stand down at about 0400 (4am). They felt they had done all they could.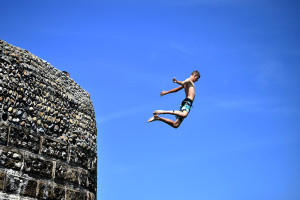 "Very sadly, nothing has been found and it is very unlikely that anything will be. This has turned into a recovery mission. Very sadly there is no chance of finding them alive. The coastguard remains on site but the searches will mostly be in and around the shoreline."
Newhaven Coastguard said in a statement published by Brighton and Hove News: "Conditions were so rough that Brighton Lifeboat considered it too dangerous to launch so the crew assisted land search teams.
"Land search teams walked and re- walked several times the beach particularly around the Palace Pier, while both All Weather Lifeboats completed a thorough sea search.
"Coastguard helicopter Rescue 104 scanned the area with thermal camera equipment as well as visual searching using the aircrafts searchlights several times.
"Despite our very best efforts in unforgiving weather conditions we were unable to locate either of the missing persons and the teams were stood down shortly before 6am."
According to the Royal National Lifeboat Institution (RNLI), 167 people drowned off the British coastline in 2013.
Last year the RNLI warned people in Brighton of the perils of drinking and swimming after two incidents in which people got into difficulty and had to be rescued. It is unclear whether alcohol was a factor in last night's incident.