Britain First's Jayda Fransen convicted of religious harassment after hijab row with Muslim woman
IBTimes UK speaks to member of far-right party: "It was one of the greatest displays of Islamic appeasement..."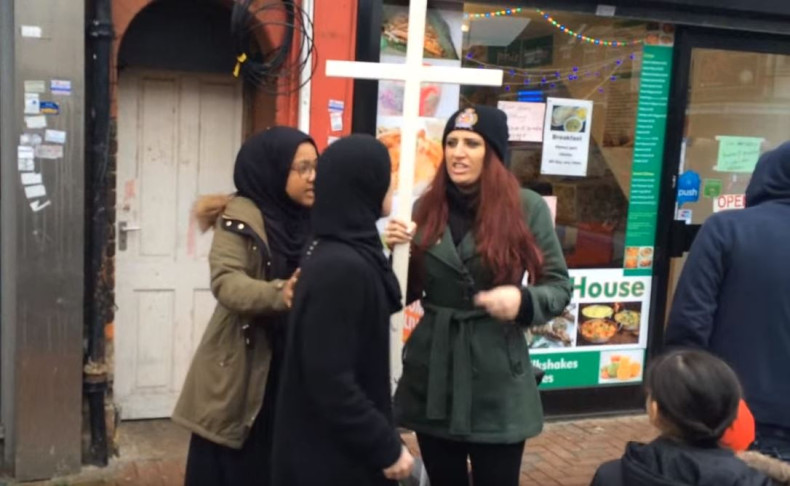 Britain First's deputy leader Jayda Fransen has been found guilty of religiously aggravated harassment after hurling abuse at a Muslim woman for wearing a hijab.
Fransen, 30, was also convicted of wearing a political uniform following a trial at Luton Magistrates' Court on Thursday (3 November).
She escaped a possible six-month prison sentence and was instead fined just over £1,900.
The court heard how Fransen had launched a tirade of abuse at Sumayyah Sharpe during the far-right party's 'Christian patrol' through Bury Park in Luton on 23 January.
She was accused of telling hijab-wearing Sharpe that Muslim men force women to cover up to avoid them being raped "because they cannot control their urges".
Sharpe said she was brought to tears by the incident and that it had left her four-year-old son too scared to leave the house in case they ran into the group again.
"I did not believe that British people could act like this really," she told the court.
Britain First claimed it had faced "ferocious hostility" from local residents during the incident.
Fransen told IBTimes UK her conviction was "one of the greatest displays of Islamic appeasement I have seen for a long time". She accused the judge of "talking nonsense", saying the whole trial was a "circus".
Police have struggled to deal with the fallout of the group's controversial anti-Islam protests and street-level action in Luton over the past few years.
A video of the incident in Bury Park, home to a sizeable Muslim community, had been posted by the party on its Facebook page and watched millions of times.
It saw Britain First activists, led by Fransen and party leader Paul Golding, walk down a high street while carrying white religious crosses and handing out Britain First newspapers to passers-by.
The front page read: "World War Three has begun – Islam against the world."
Sharpe said she had been shopping with her children when she noticed the group and refused to take a newspaper.
Sharpe told the activists that the newspaper represented "everything against me and what I believe in", prompting Fransen to cross the road and confront her, the court heard.
"She came across, shouting at me, saying 'Why are you covered?' and she said that quite a few times. I told her it was my choice that I cover," Sharpe told the court.
"I then turned to the camera and I said 'Film me, I'm British, I'm a British Muslim. It's my choice to wear this clothing and it's my right.'"
She admitted to then calling Fransen "a slapper" and telling her to "p*** off", but said: "I was so angry at that point that she had done that in front of my children."
Fransen can also be heard in the video repeatedly telling the woman, "This is a Christian country."
Fransen had denied charges of religious harassment and wearing a political uniform – an obscure offence under the Public Order Act 1936, originally passed to curb the activities of Sir Oswald Mosley's British Union of Fascists, or Blackshirts.
She was convicted of both and a third charge alleging she breached bail conditions was dropped by prosecutors.
Fransen's conviction comes after Britain First leader Paul Golding was also convicted of wearing a political uniform.
The charge related to the same "patrol" through Bury Park during which prosecutors said he was wearing an "intimidating" Britain First-branded fleece.
He pleaded guilty at Luton Magistrates' Court on 29 July and was fined £450.
In a separate twist, during Fransen's trial it emerged Golding will also be taken to court for a separate incident in August at a mosque in Cardiff during which police say he breached a High Court injunction.
Officers from Bedfordshire Police served him with a court summons on the opening day of Fransen's trial in the waiting room of Luton Magistrates' Court.
Golding described the allegations as "ridiculous" but told his supporters that if found proved he could be sent to prison for six months.
The injunction, granted on 11 August, bans Golding and Fransen from entering any mosque in England and Wales, and from entering parts of Luton, for the next three years.
It was sought by Bedfordshire Police to curb Britain First's anti-Islam activism in Luton, with the police chief saying the party's activists had caused "community tensions" in the area.
Community groups, faith leaders and local politicians in Luton had also long complained the party's activities had cost "hundreds of thousands of pounds" to the local economy and were upsetting residents.
The party, founded by former members of the British National Party (BNP), has been described by its critics as "racist" and a front for "fascists" – allegations denied by Britain First.
What is the Public Order Act 1936?
Via laws passed under the Public Order Act 1936, Britain First leader Paul Golding was convicted of "wearing uniform with political objectives"
The act, passed under King George VI, was originally intended to curb the activities of Oswald Mosley's British Union of Fascists, also known as the Blackshirts
The Act prohibits "any person who in any public place or at any public meeting wears a uniform signifying his association with any political organisation or with the promotion of any political political object"
A clarification adds that citizens may be permitted to wear uniforms "on any ceremonial, anniversary, or other special occasion" so long as the Secretary of State is satisfied that it will "not be likely to involve risk of public disorder"