The deputy leader of Britain First has praised Donald Trump for sharing a string of controversial anti-Islam videos she posted on Twitter.
Jayda Fransen, 31, said Trump was "setting the way for the rest of the world" and described Islam as "the biggest threat to our nation".
Her three videos – which show Muslims in a negative light – were retweeted by the US President on Wednesday (29 November).
Trump was quickly condemned for sharing Fransen's tweets, including by the husband of Jo Cox, the MP who was murdered last year by a far-right extremist said to have been shouting "Britain First" at the time.
Brendan Cox said the President "should be ashamed of himself" for sharing Fransen's content.
The first video shared by Trump is entitled, "Muslim migrant beats up Dutch boy on crutches", while a second is labelled: "Muslim Destroys a Statue of Virgin Mary!"
A third clip tweeted by Fransen, and retweeted by President Trump, is called: "Islamist mob pushes teenage boy off roof and beats him to death."
Fransen, an avid Trump supporter from Penge, South East London, is currently on bail after being charged with religiously aggravated harassment in September.

She is also due to appear in court in Northern Ireland next month charged with using threatening and abusive language following a speech she made at an 'anti-terrorism' demonstration in Belfast on 6 August.
In response to the Trump retweets, Fransen told IBTimes UK: "Islam is the biggest threat to our nation and Islamic immigration and Islamic terrorism has caused no end of problems in our country and [Trump's retweets] just illustrate people are waking up.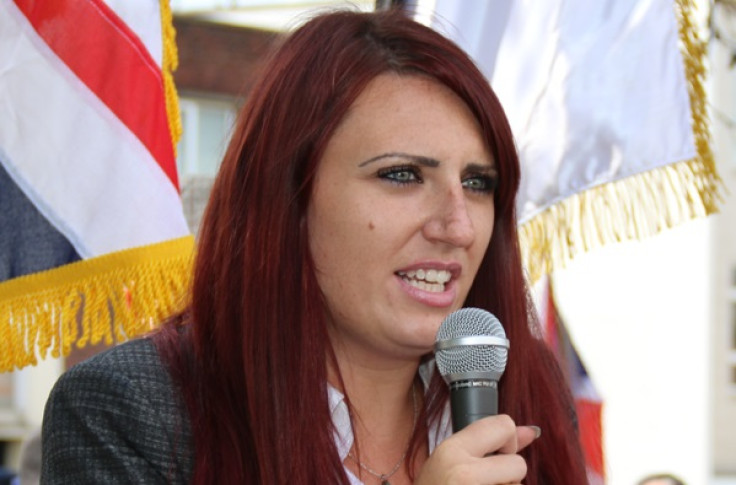 "Thank God for President Trump ... I do honestly think he's setting the way for the rest of the world to start putting their people, their national security and their individual nation first."
Fransen said she didn't know why Trump shared her tweets with his followers, or if he was a Britain First supporter.
She said: "If you're asking why I think he retweeted those particular tweets, it's because I would say at the moment those issues are of great concern to many people throughout the world and those specific tweets are quite shocking.
"The reason I have put them up is to raise awareness, and perhaps President Trump wishes to do the same. Maybe one day I'll have the opportunity to ask him."
Britain First, a political group branded "far right" by opponents, was founded in 2011 by former members of the far-right British National Party (BNP).
It has since been accused of repeatedly spreading misleading videos online showing Muslims in a negative light.
An investigation by Press Association earlier this year found the group had posted at least 10 of these clips over a period of about seven weeks – receiving hundreds of thousands of views on Twitter and Facebook.
These were said to include untrue claims that Muslims and migrants had attacked women and police.
Despite social networks announcing high profile measures to tackle "fake news" in recent months, some of the content still remains on both Twitter and Facebook – despite it being alerted to the companies.
Britain First leader Paul Golding, a former BNP activist, and Fransen have also long been accused of causing unrest in British Muslim communities.
While their party insists it holds peaceful protests, its marches often result in clashes with local residents or anti-fascist campaigners.
These include the party's so-called "mosque invasions" and "Christian patrols".
Who is Britain First?
Britain First was set up in 2011 by former members of the British National Party.
It describes itself as a "patriotic political party" but critics brand them "far right," "racist" and a front for "fascists" – all descriptions denied by the group.
The party focuses most of their campaigning on Islam, a religion it describes as dangerous and which they want to ban.
Other Britain First policies include ending the "foreign health tourism" that they say is draining the NHS, introducing a ban on the word "racism" in the media, scrapping the entire foreign aid budget, restoring capital punishment for paedophiles, terrorists and murderers, and withdrawing from the United Nations.
While they have a strong following on social media, their rallies rarely attract more than 100 people.