The man accused of being behind the Finsbury Park attack reportedly followed prominent anti-Islam figures on social media – including those accused of spreading fake videos about Muslims online.
Father-of-four Darren Osborne was arrested after a hire van ploughed into pedestrians outside the Muslim Welfare House in north London on Monday (19 June).
He is alleged to have shouted, "I want to kill all Muslims," after the vehicle hit the crowd.
The Guardian reported that Osborne had set up a Twitter account before the attack and had been following 32 people, including Paul Golding and Jayda Fransen – the leaders of controversial anti-Islam party Britain First.
The far-right group describes itself as "committed to maintaining and strengthening Christianity as the foundation of our society and culture" and repeatedly warns its followers of a coming "civil war" with Islam.
Its activists are notorious for what critics call "provocative" street-level action in areas of the UK home to large Muslim communities, including so-called "mosque invasions" and "Christian patrols".
In the wake of Monday's attack, anti-extremism group Hope Not Hate accused Britain First and other prominent anti-Islam activists of having fueled "a climate of hate" against Muslims.
Golding and Fransen have also been accused of repeatedly spreading misleading videos online showing Muslims in a negative light.
An investigation by Press Association earlier this month found the group had posted at least 10 of these clips over a period of about seven weeks – receiving hundreds of thousands of views on Twitter and Facebook.
These were said to include untrue claims that Muslims and migrants had attacked women and police.
Despite social networks announcing high profile measures to tackle "fake news" in recent months, some of the content still remains on both Twitter and Facebook – despite it being alerted to the companies weeks ago.
A string of misleading videos posted online by Britain First (source: Press Association)
On 4 May, the group posted a video captioned: "Brave kid saves young girl from Isis! Amazing". It is actually a widely debunked hoax made in 2014 by Norwegian director with actors in Malta. The video has 172,000 views on Britain First's Facebook page and has not been taken down.
On 22 April, Britain First posted a link to a video showing Muslims attacking and abducting a young woman. The Press Association found that it actually shows footage of a suspected drug dealer being arrested by police in France back in 2015. Deputy leader Jayda Fransen also posted a link to the video on Twitter.
Another popular video on Facebook was claimed to show a "huge crowd of migrant Muslims" attacking German police, but actually shows an anti-fascist demonstration from 2011. The video was reshared by Britain First's followers more than 2,500 times and remains on the platform with 142,000 views.
In another video viewed 104,000 times on Facebook, captioned "Poor woman assaulted by migrants in Austria!", the CCTV footage can be traced back to an attack in the Czech Republic last year. Media reports from the country make no mention of the attackers being migrants.
Another post is entitled "Muslim migrants in Australia thought they are above the law!" - with a link to a YouTube video shared hundreds of times by followers of the group's Facebook page. Though the man featured in the video appears to lash out at police, when contacted he told the Press Association he was actually born in Australia.
A video posted on Twitter by Britain First leader Paul Golding was alleged to show migrants in Europe attacking a woman – the footage was actually of a mugging carried out by children on a woman in Brazil.
A significant number of comments "glorifying" the Finsbury Park attack have also been made by Britain First followers on the party's Facebook page.
After the group posted news of Monday's attack, one user wrote: "Well done that man."
Another added, "If only we had a million heroes like this!" while a third wrote, "Good on him wish more would follow suit."
A stream of similar comments in praise of the attack followed.
Golding, a former BNP activist, has long been accused of causing unrest in British Muslim communities.
While his party insists it holds peaceful protests, its marches often result in clashes with local residents or anti-fascist campaigners.
Golding, 35, was recently released from prison following an incident outside a mosque in Cardiff, and in November last year, deputy leader Fransen was convicted of religious harassment after she hurled abuse at a Muslim woman for wearing a hijab during a march through Luton.
The two party leaders were arrested again last month following another anti-Islam campaign which related to an ongoing rape trial in Kent.
Britain First and social media
Britain First's Facebook page has more than 1.7 million followers, which is more than the Conservative, Labour and the Lib Dem parties have combined.
Their Twitter following, however, is smaller: their unverified @BritainFirstHQ account has about 14,000 followers; leader Golding has just under 31,000; and deputy leader Fransen has around 35,000.
Fransen and Golding almost exclusively tweet anti-Islam and anti-immigration material.
The party told IBTimes UK it condemned Monday's attack. It did not respond for further comment.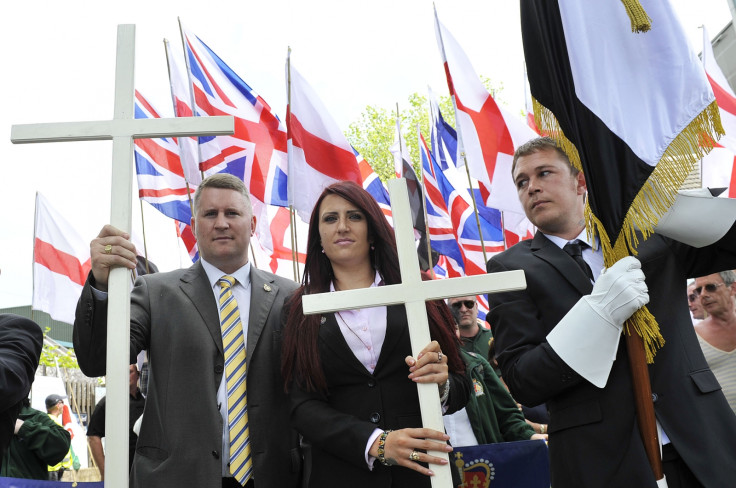 It comes as police continue to investigate the motive for Monday's suspected terrorist attack.
Osborne, 47, is accused of hiring an £80-a-day van from his hometown of Cardiff and driving to Finsbury Park.
He is alleged to have then mounted the pavement at around 12.20am on Monday, ploughing into a group of Muslim worshippers outside the Muslim Welfare House, near to Finsbury Park Mosque.
The attack, which left 11 injured, unfolded while a man was receiving first aid from the public after being taken ill in Seven Sisters Road, police said. That man was later pronounced dead at the scene.
Osborne was arrested on suspicion of attempted murder and terrorism offences. Police currently believe he acted alone.
Further details of Osborne's movements in the days leading up to the attack have since emerged in media reports, including claims that he had been thrown out of his local pub in Cardiff the night before having been "cursing Muslims and saying he would do some damage."
Prime Minister Theresa May visited Finsbury Park at lunchtime on Monday and described the incident as "every bit as insidious and destructive to our values and our way of life" as the recent string of terror attacks in London and Manchester.
She repeated comments she made after the London Bridge attacks earlier this month, vowing to "stamp out extremist and hateful ideology – both across society and on the internet – so it is denied a safe space to grow."
Labour leader Jeremy Corbyn, who was also at the scene on Monday, said: "A lot of the time people are saying Islamophobia isn't real. But this time it's actually killed someone and injured others. There are kids who grew up [watching this] on TV and never expected it to happen in their own backyard."