Britain First's deputy leader, Jayda Fransen, has just been retweeted three times by Donald Trump, leader of the free world. But who is she, and why is this such a problematic action by the president?
The ultranationalist group Britain First, which describes itself as a "patriotic political party" but is no longer officially recognised as a political organisation, was formed in 2011 by disenfranchised former members of the British National Party (BNP). It has been described by critics as "far-right," "racist" and a front for "fascists" – all descriptions denied by the group. Yet they want to completely ban Islam in the UK.
One of the group's founding fathers, former BNP member Jim Dowson, said in a 2014 interview that Britain First activists were part of a "holy war" and "crusade". The group has also described Islam as a "cancer of the world".
However Britain First insists it "rejects" racial hatred and claims on its website: "British ethnic minorities regularly attend our events and activities. Britain First opposes Islamic extremism and mass immigration because they are a danger to the British people. Britons from all backgrounds are welcome to join our struggle to put British people first."
Other Britain First policies include ending the "foreign health tourism" that they say is draining the NHS, introducing a ban on the word "racism" in the media, scrapping the entire foreign aid budget, restoring capital punishment for paedophiles, terrorists and murderers, and withdrawing from the United Nations.
In recent years, the group has targeted areas with significant Muslim communities, taking part in "Christian patrols", "mosque invasions" (where activists hand out anti-Islam leaflets to Muslims during prayer) and national protest rallies. Britain First leader Paul Golding was previously jailed for eight weeks in December 2016 for breaking a court order banning him from entering mosques or encouraging others to do so.
According to numerous witnesses, Thomas Mair shouted "Britain First" as he fatally shot and stabbed MP Jo Cox outside her constituency office in June 2016. Following the murder, Louise Haigh, Labour MP for Sheffield Heeley, wanted the House of Commons to debate whether Britain First should be proscribed as a terrorist organisation.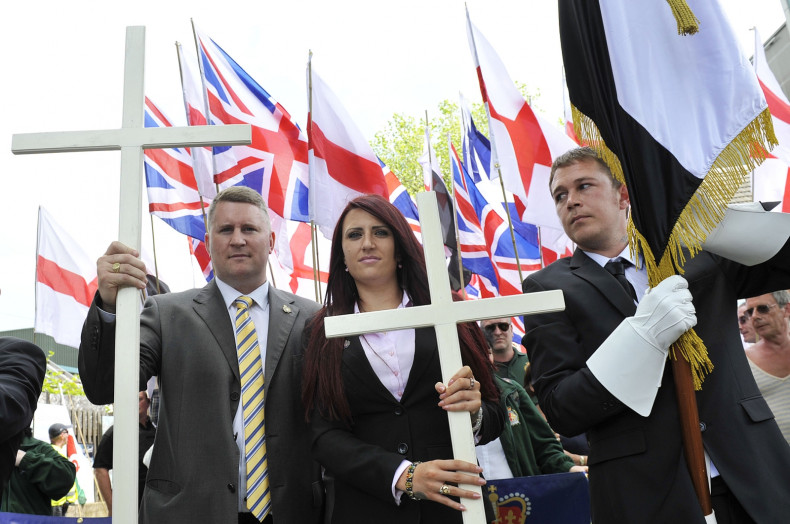 Jayda Fransen
Jayda Fransen has been deputy leader of the group since 2014 and has said in previous interviews she is willing to die for her cause. She also claims to put her faith in God to choose the time of her death. She has 54,000 Twitter followers, to whom she frequently posts videos with an anti-Muslim message.
Fransen previously stood for parliamentary election in a Rochester and Strood by-election in 2014, after Britain First was active nearby in opposition to a planned mosque. The seat was won instead by UKIP; Britain First received just 56 votes (0.14%), coming ninth out of 13 candidates.
Fransen and Golding were both arrested in May and later charged with causing religiously aggravated harassment, following an investigation relating to the distribution of leaflets and the posting online of videos during a trial involving three Muslim men and a teenager who have since been convicted of rape. They have pleaded not guilty.
Just this month, Fransen was arrested and charged over a speech she made at the Northern Ireland Against Terrorism Rally in August. She was charged with threatening, abusive or insulting words or behaviour and is due in court on 14 December.
Anti-Muslim videos
Trump's retweets were of three videos posted by Fransen, titled "Muslim migrant beats up Dutch boy on crutches," "Muslim Destroys a Statue of Virgin Mary!" and "Islamist mob pushes teenage boy off roof and beats him to death!" Yet numerous anti-Muslim angled videos and captions posted by Britain First have previously been debunked:
A string of misleading videos posted online by Britain First (source: Press Association)
On 4 May, the group posted a video captioned: "Brave kid saves young girl from Isis! Amazing". It is actually a widely debunked hoax made in 2014 by Norwegian director with actors in Malta. The video has 172,000 views on Britain First's Facebook page and has not been taken down.
On 22 April, Britain First posted a link to a video showing Muslims attacking and abducting a young woman. The Press Association found that it actually shows footage of a suspected drug dealer being arrested by police in France back in 2015. Deputy leader Jayda Fransen also posted a link to the video on Twitter.
Another popular video on Facebook was claimed to show a "huge crowd of migrant Muslims" attacking German police, but actually shows an anti-fascist demonstration from 2011. The video was reshared by Britain First's followers more than 2,500 times and remains on the platform with 142,000 views.
In another video viewed 104,000 times on Facebook, captioned "Poor woman assaulted by migrants in Austria!", the CCTV footage can be traced back to an attack in the Czech Republic last year. Media reports from the country make no mention of the attackers being migrants.
Another post is entitled "Muslim migrants in Australia thought they are above the law!" - with a link to a YouTube video shared hundreds of times by followers of the group's Facebook page. Though the man featured in the video appears to lash out at police, when contacted he told the Press Association he was actually born in Australia.
A video posted on Twitter by Britain First leader Paul Golding was alleged to show migrants in Europe attacking a woman – the footage was actually of a mugging carried out by children on a woman in Brazil.