Donald Trump has come under fire for retweeting violent messages originally posted by the deputy leader of Britain First.
The graphic tweets include video footage captioned "Islamist mob pushes teenage boy off roof and beats him to death!"
A second tweet was captioned "Muslim destroys statue of Virgin Mary", while a third read "Muslim migrant beats up Dutch boy on crutches".
The original tweets come from the deputy leader of Britain First, Jayda Fransen, who was arrested last week over a speech she made in Belfast in the summer.
Britain First have in the past come under fire for sharing videos that were determined to be fake.
The group, who are no longer officially recognised as a political party, due to "administrative reasons", has called its supporters to join what they call as the "British resistance" and help to secure a "future for British children".
The Dutch news website, Dumpert, debunked the story related to the "Muslim migrant beats up Dutch boy on crutches", by confirming that the boy was neither a Muslim or a migrant.
Trump has been condemned by politicians and activists in the past for his failure to condemn far-right groups, particularly in the wake of the Charlottesville violence in August.
When neo-Nazis marched through Charlottesville, he initially blamed the hatred on "many sides" before the next day taken a firmer stance against the far-right groups.
But he then performed a second u-turn by calling out members of what he called the "alt-left."
Reacting to the news, Fransen tweeted: "THE PRESIDENT OF THE UNITED STATES, DONALD TRUMP, HAS RETWEETED THREE OF DEPUTY LEADER JAYDA FRANSEN'S TWITTER VIDEOS! DONALD TRUMP HIMSELF HAS RETWEETED THESE VIDEOS AND HAS AROUND 44 MILLION FOLLOWERS! GOD BLESS YOU TRUMP! GOD BLESS AMERICA! OCS"
But speaking to IBTimes UK, Fransen said: "I'm a huge fan of Trump. We were delighted when he won the election. I think he's one of the only world leaders whose prepared to put his neck on the line, stick up for his own people and say what the majority of people are thinking that the rest of the establishment are too scared to say themselves."
It is unknown how the president stumbled across the original tweets, one of which was posted around 15 hours before he retweeted it.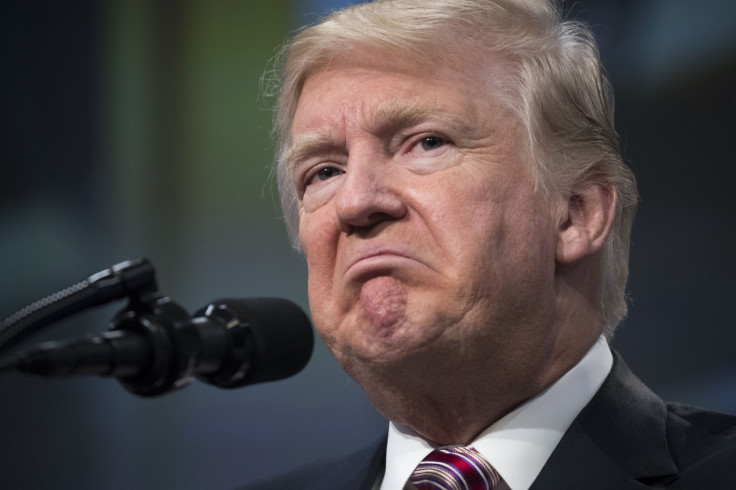 Trump does not follow Fransen or Britain First on Twitter, however he does follow the right-leaning commentator Ann Coulter who retweeted one of the videos on Tuesday evening.
But the other two tweets were not shared by Coulter, meaning that Trump would have had to visit Fransen's page to source the tweets.
Around the world, reaction to Trump's apparent support of the far-right group attracted condemnation.
One of his critics is British journalist Piers Morgan, who is one of just 45 people that Trump follows on Twitter.
Morgan wrote: "Good morning, Mr President- what the hell are you doing retweeting a bunch of unverified videos by Britain First, a bunch of disgustingly racist far-right extremists? Please STOP this madness & undo your retweets."
Brendan Cox, the husband of the former MP Jo Cox who was murdered by a man in 2016 with connections to the far-right said: "Trump has legitimised the far right in his own country, now he's trying to do it in ours. Spreading hatred has consequences & the President should be ashamed of himself."
The former Labour cabinet minister David Lammy said that Trump was "not welcome in my country and my city".