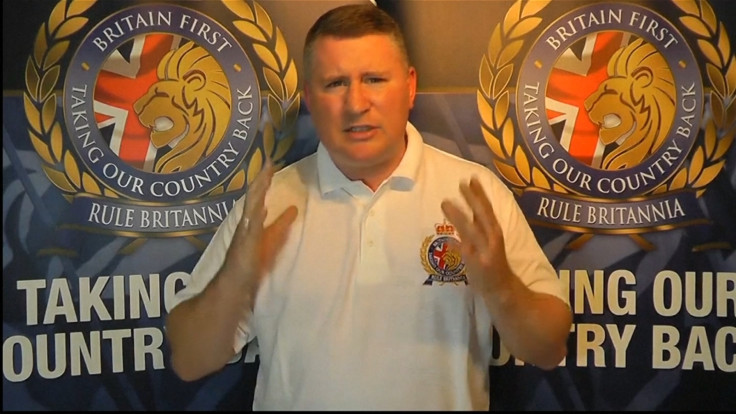 The leader of controversial far-right political party Britain First has been temporarily banned from using Skype and ordered to attend a police station every day after being charged with wearing a political uniform.
Paul Golding, 34, was detained on Tuesday (19 July 2016) having been originally arrested five months ago after leading a group of activists through the Bury Park area of Luton to hand out anti-Islam literature.
It ended in a stand-off with local residents, who shouted at Britain First to leave before police arrived to escort them out of the area.
Bedfordshire Police alleged the Britain First-branded hooded top that Golding wore at the time constituted a 'political uniform' – an offence under the Public Order Act 1936, which was originally passed under King George VI to curb the activities of Oswald Mosley's British Union of Fascists, or 'Blackshirts'. He was charged at a police station in Kent and is due to appear at Luton Magistrates' Court on 5 August.
Golding had been on bail without charge since his original arrest in February.
New bail conditions now ban him from using Skype "or any other similar live streaming media", and require him to report to a police station every day.
He is also banned from entering, or encouraging others to enter, the town of Luton. If convicted, Golding could face up to three months in prison or may have to pay a fine.
Golding told IBTimes UK he plans to challenge the bail conditions in the coming days at Luton Magistrates' Court, saying they were unfairly strict and "worthy of a mass-murderer". He posted a picture of himself signing on at a police station for his first day on bail on Wednesday.
A spokesman for Bedfordshire Police said: "Paul Golding, 34, has been charged with wearing a uniform signifying association with a political organisation under the public order act in relation to an incident which occurred on Saturday, 23 January."
Britain First is a right-wing Christian political party founded by former members of the British National Party, or BNP.