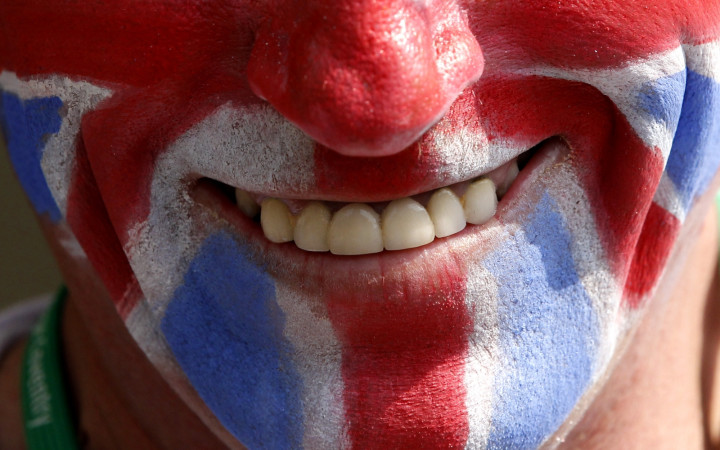 The UK has witnessed a well-being boost as life satisfaction has improved and anxiety has fallen over the last three years, according to official figures.
The Office for National Statistics, which analysed data from its 165,000 respondent-strong Annual Population Survey, found that the proportion of people reporting the highest levels of personal well-being has grown since 2011/12 for each of the four measures.
The research body explained that the greatest gain has been in reduced anxiety levels.
The proportion of people in the UK reporting very low anxiety grew between 2011/12 and 2013/14 as the average score of people feeling anxious dropped by 0.10 points to 2.9 out of 10.
The research also revealed that the average score for life satisfaction increased by 0.06 points to 7.5 points out of 10.
"I'm quite surprised about anxiety going down, but in some ways not," Dr Zofia Bajorek, a researcher at the thinktank the Work Foundation, told IBTimes UK.
"If you look at other ONS figures you get 131 million days of sickness absence going on, [and] mental health makes up a huge proportion of it."
"But a lot of the results doesn't really surprise me. We're coming out of a recession at the moment and the economy is picking up, people are feeling less insecure about jobs.
"There is now stability across [the UK]. That's why people's anxiety and general well-being is improving."
Dr Jill Miller, a research advisor at the Chartered Institute of Personnel and Development, has noticed a similar trend to Bajorek.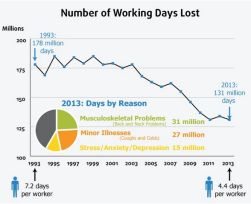 "Since the recession really kicked in we've seen an increase in stress related absence and in reported mental health problems and it hasn't decreased since then," Miller told IBTimes UK.
"Our main message is that employers cannot take their foot of the gas when it comes to investigating well-being because people are still very much under pressure."
The figures come after separate research from the ONS found that 131 million days were lost due to sickness absences in the UK in 2013 [Fig 1].
The research body said that sickness absence levels were lowest in London (1.5%) and Wales, but the North East and the East Midlands saw the highest rates at 2.4%.
Absenteeism currently costs the UK economy £13.4bn ($21.9bn, €17.1bn) a year, according to the Work Foundation.