British Airways passengers 'smelled burning' as plane crash-lands in Johannesburg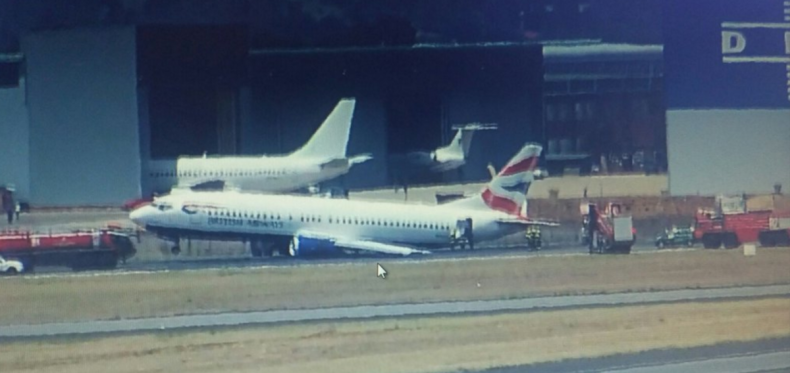 A British Airways plane crash-landed after its landing gear collapsed upon touching down in Johannesburg just after midday on Monday (26 October). The flight, operated by South African company Comair (a British Airways franchisee with its own low-cost brand Kulula), had flown from Port Elizabeth to OR Tambo International.
Emergency services helped 94 passengers and six crew evacuate safely off the Boeing 737-400 plane without any injuries. The incident caused delays at South Africa's busiest airport.
Warren Mann, a passenger onboard the flight told Traveller24 that the pilot explained that the plane's "left landing gear had broken off" shortly before touching down on the tarmac, causing the plane to hit the runway at an angle. "We could see sparks as the left wing and the engines were scraped across the runway. The wing seemed completely broken off," said Mann.
"Oxygen masks came down and the plane was at an angle as we touched down," Mann told the BBC. "We could smell something burn and fire crews were soon at the plane to deal with the engine."
According to the Aviation Safety Network, the left-hand landing gear collapsed as the plane landed. "The aircraft skidded on the left engine nacelle and wingtip before coming to rest on the runway."
A Comair spokesperson said: "British Airways' (operated by Comair) BA6234, a 10:35 departure from Port Elizabeth, with 6 crew and 94 passengers on board, was involved in an incident on landing at OR Tambo International Airport just after 12:00 pm today. We can confirm that all passengers and crew safely disembarked with no reported injuries. Passengers have been taken to the terminal building where staff are on hand."
Comair will conduct an investigation over the coming days and weeks and the relevant authorities are releasing details to the media once they have more information.
Comair is a flight operator in South Africa and a British Airways franchisee. It connects British Airways' long-haul routes from the UK to regional airports across southern Africa. It uses British Airways-branded planes, flight numbers, and aircraft crew wear BA-branded attire, but its pilots and cabin crew are not British Airways officials.
Last month a British Airways plane burst into flames on the runway at Las Vegas McCarron International Airport. Minor injuries were reported during that flight's evacuation.