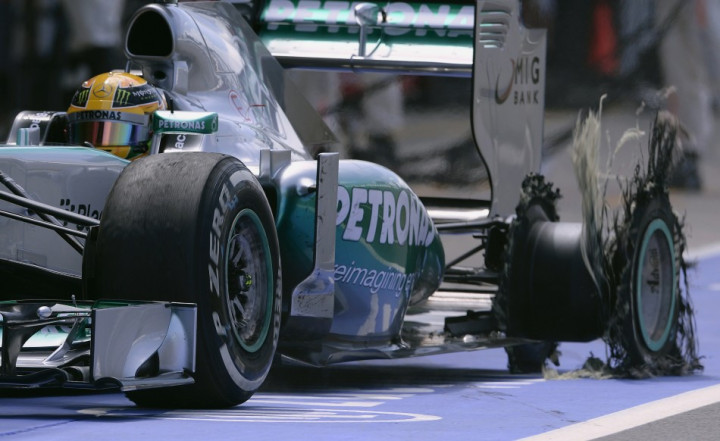 Formula One drives are urging Pirelli to act following the tyre failures which marred the British Grand Prix, with fears future incidents could prove fatal.
In a dramatic race at Silverstone, four drivers suffered almost identical blow-outs on their left rear tyres, before the race was eventually won by Mercedes' Nico Rosberg following fears it could have been called all off-together.
Mercedes' Lewis Hamilton had high hopes tof becoming the first British driver to win at Silverstone dashed when he suffered a blowout whilst leading the race on the eighth lap.
Hamilton, who eventually recovered to finish forth, described Sunday's race as "the first time in my career I've ever felt [driving] was dangerous".
He added: "We had that tyre test to develop and improve the tyres to stop that from happening and after that tyre test they didn't do anything.
"Someone could've crashed. I was thinking behind the safety car that it's only when someone gets hurt that something will be done about it."
Ferrari's Felipe Massa, Toro Rosso's Jean-Eric Vergne and McLaren's Sergio Perez also managed to escape injury after their back tyres failed during the race. Sauber's Esteban Gutierrez also suffered a burst front-left tyre with several other drivers also having their tyres close to failing.
FIA race director Charlie Whiting said he was close to red-flagging the whole race.
Massa admitted drivers could consider boycotting next weekend's German Grand Prix because of fears to their safety.
Massa said: "I don't want to say that [we will boycott] because I don't want to create loads of problems but this is something that for our safety we can do.
"We are risking our lives and if something like this happens again, we don't want one of us to be killed".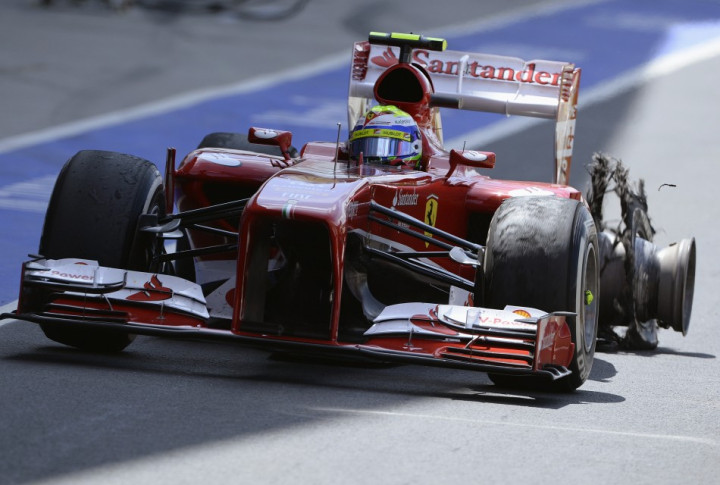 While Hamilton's blow-out received the main focus after the race, Kimi Raikkonen's Lotus was struck by debris from Vergne's blow-out and Ferrari's Fernando Alonso only narrowly avoided flying strips of rubber from Perez's tyres.
Alonso, who finished third, also said his right rear failed at the final corner before he made his first pit stop.
Red Bull boss Christian Horner said Alonso was "very lucky" to have escaped injury.
Homer added: "The most important thing is to understand the problem. Pirelli need to go away and reflect and understand what has happened. We need a solution because someone will get hurt if that keeps happening.
"Something needs to be done."
Pirelli's motorsport director Paul Hembery ruled out the new bonding process, which was introduced at this race, being the cause of the tyre failures.
He said: "There have obviously been some issues with rear-left tyre failures which we have not seen before.
"We are taking the situation very seriously and we are currently investigating all tyres to determine the cause as soon as possible, ahead of the next Grand Prix in Germany.
"At the moment, we can't really say much more until we have fully investigated and analysed all of these incidents, which is our top priority."