British-Sikhs protest Hindu 'terror group' chief Mohan Bhagwat UK visit to 'spread hate'
The Sikh Federation UK has accused the RSS of being a 'significant threat' to religious minorities in India.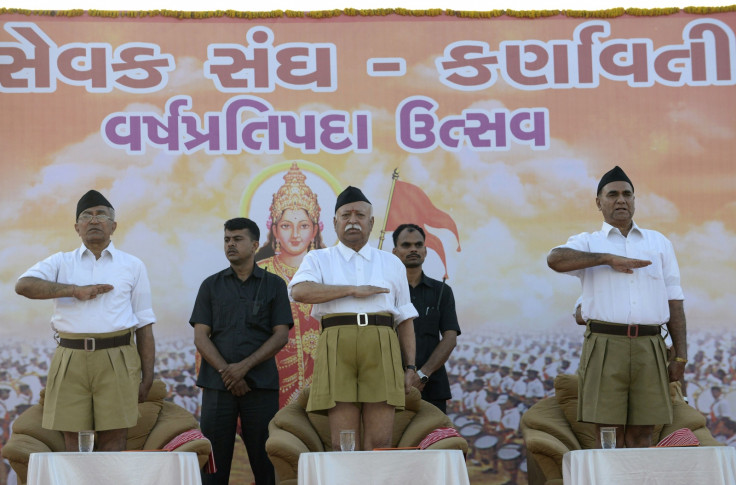 British-Sikhs are set to stage a protest against the chief of the Rashtriya Swayamsevak Sangh (RSS), a Hindu nationalist parliamentary group in India. The protest against Mohan Bhagwat will take place on 30 July during his visit to the UK, where he has been addressing Hindus from Britain and Europe.
Bhagwat told the Press Trust of India that he would be attending a number of gatherings of Hindus that have been organised to mark the golden jubilee celebrations of the Hindu Swayamsevak Sangh (HSS), which has drawn inspiration from his RSS group. However, some British-Seeks have hit out against the decision to allow Bhagwat into the UK, accusing him of "spreading hate".
Gurjeet Singh, spokesperson for the Sikh Federation UK, told IBTimes UK: "Following Indian government pressure the terror group chief has been allowed to enter the UK and spread religious and ethnic hate at a European-wide conference. The RSS presents a significant threat to religious and ethnic minorities in India with the declaration that they will ensure India becomes a Hindu Rashtra by 2021."
Singh noted that the RSS group has been banned in India several times, including when their member Nathuram Godse assassinated Mahatma Gandhi in 1948 and after the demolition of the Babri Masjid in 1992. Some have also blamed the RSS for forcing thousands of people to covert to Hinduism, while attacking Dalits, Muslims and Christians since Narendra Modi became Prime Minister in 2014.
Singh said: "Groups like the RSS have an objective of attacking the Sikh faith so it leads to its eventual assimilation and is driving a campaign to convert Muslims and Christians to Hinduism by force. Intolerance and attacks against women have reached epidemic levels in India."
Protests against the RSS chief are due to take place on 30 July from 1pm GMT at the Hertfordshire County Showground near Luton. This is where Bhagwat will be speaking for the HSS anniversary celebrations and the event is expected to be the first time that he has ever addressed such a big gathering of Hindus in the UK.
RSS sources told the Press Trust of India that the event aims to "bring all like-minded Hindus together from across Europe", as well as encourage the younger generations to "connect with their cultural heritage". They also said that it would allow Bhagwat to present the "perfect model" of the "Hindu-family" to countries around the world.
© Copyright IBTimes 2023. All rights reserved.