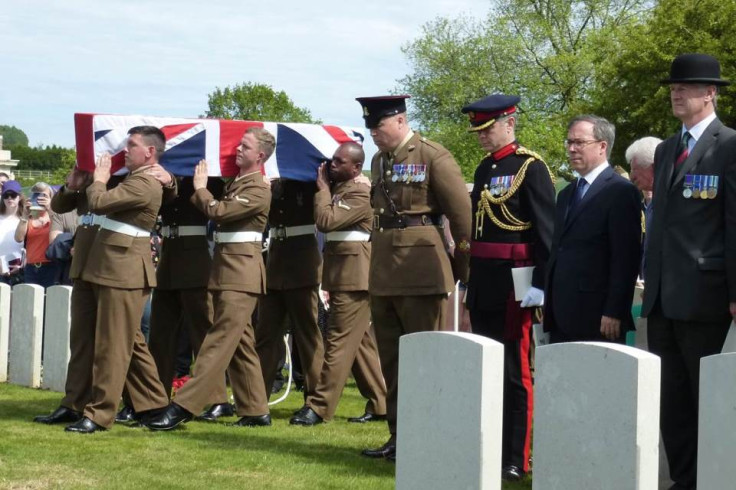 A British WW1 soldier who fought in the Battle of the Somme has finally been buried more than 100 years after his death.
Private Henry Parker was finally laid to rest at the Warlencourt British Cemetery, near Arras, France, will full military honours after his remains were discovered in a farmer's field on the outskirts of Matinpuich, Nord-Pas-de-Calais, in 2014.
The soldier was formally identified thanks to the military insignia which were found alongside his remains as well as DNA testings from surviving members of 12 potential families.
Parker, from the 5th Battalion The Yorkshire Regiment, was just three days short of his 23rd birthday when he was killed during the Battle of the Somme on 26 September 1916.
Pat Burton, great-niece of Parker, was one of the family members who attended the service. He said: "It is a great honour for us to be here today to pay our respects to a Great Uncle, Private Henry Parker.
"We would like to thank the Joint Casualty and Compassionate Centre of the Ministry of Defence for inviting us to the burial ceremony here in Warlencourt, and feel very humble to be part of this occasion and extremely proud of our Great Uncle."
Francis Storry, great-nephew of Henry Parker said: "When we got the letter from the MOD Joint Casualty and Compassionate Centre, we were very surprised as we didn't know anything about Henry Parker. It's a great honour to be here today with 20 family members to pay our respects."
Lt Col David O'Kelly, Regimental Secretary of The Yorkshire Regiment added: "The Yorkshire Regiment is immensely proud to be able to lay to rest one of its brave soldiers, even 100 years on from the war in which he was tragically killed. He was an inspiration to his comrades then, and is still an inspiration to those who serve in the Regiment now. We will remember him."
A new headstone baring Parker's name was also provided by the Commonwealth War Graves Commission, who will now permanently take care of the soldier's final resting place.
The Battle of the Somme was one of the deadliest war offensives of all time and resulted in more than one million British, French and German casualties between 1 July and 18 November 1916.