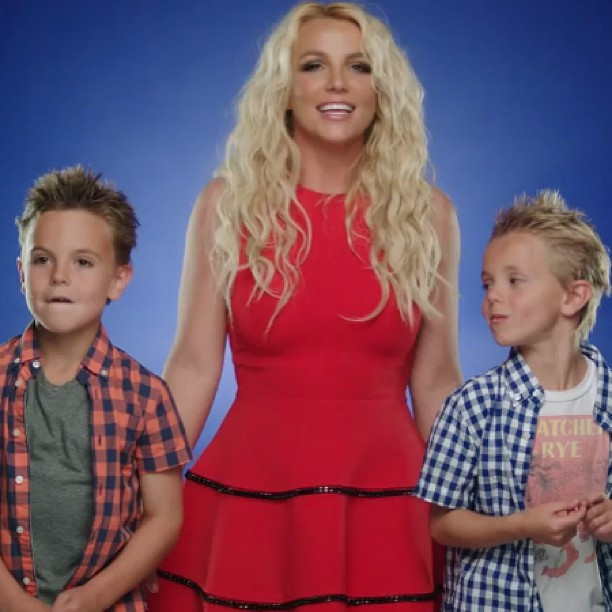 Britney Spears' music video for her single Ooh La La, from the soundtrack of Smurfs 2, has been released.
The sequel to 2011's Smurfs features a voice cast of Hank Azaria (whose credits includes The Simpsons), Neil Patrick Harris (from How I Met Your Mother), singer Katy Perry (who voices Smurfette) and Golden Globe nominee Christina Ricci.
Former National Basketball Association (NBA) star Shaquille O'Neal, who turned out for the Orlando Magic, the Miami Heat and the Los Angeles Lakers during his playing days, is also on the film's cast.
Meanwhile, the film's soundtrack also features Nelly Furtado, Owl City and Right Said Fred.
Smurfs 2 will be released in the UK on 31 July.
Speaking on the experience of making the video, the 31 year old Spears said her two sons - Jayden James Federline and Sean Preston Federline - are fans of the animated series and she wanted to surprise them with this song.
"I have always loved the Smurfs as a kid and now my boys are the biggest Smurfs fans ever. I wanted to surprise them with a song in the movie. I know they'll think it's Smurftastic," the singer was quoted as saying.
"We've seen The Smurfs movie a million trillion times and they were told they could be in the video and all this cool stuff, so that's the reason why I did it," she added.
Spears also shared a photograph of herself her sons, as a still from the music video, on Instagram. She posted: "Omg. How CUTE are my boys?!"
Finally, the Baby One More Time singer has confirmed the release of her eighth studio album, which will feature Will.i.am. The as yet untitled album is expected later this year and Spears' collaborator is excited about the prospect.
"... we've had these juicy sessions, where we've been bonding, building the trust and comfort. I've never worked like this before - not even the Peas," he said.
Check out the Ohh La La music video here.