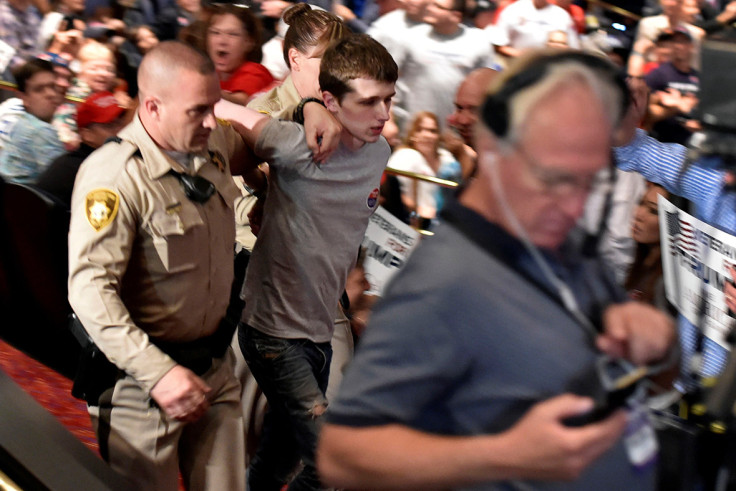 Briton Michael Sandford pleaded not guilty to charges relating to an alleged plot to kill presumptive Republican nominee Donald Trump. Sandford allegedly attempted to grab a police officer's gun to shoot Trump during a Las Vegas rally last month.
The 20-year-old was ordered to remain in federal custody, the prosecutor's office told reporters. The US Attorney's Office for the District of Nevada said Sandford will remain detained until his trial on 21 August.
Sandford was indicted on two counts of being an illegal alien in possession of a firearm and one count of impeding and disrupting the orderly conduct of government business and official functions. Each of the charges carries up to 10 years in prison.
According to Reuters, Sandford was initially charged in a complaint filed in federal court on 20 June with an act of violence on restricted grounds. The complaint said he told a US Secret Service agent he had driven to Las Vegas from California with the intent to shoot Trump. However, the indictment does not accuse Sandford of plotting to assassinate Trump.
Sandford, who has a history of mental health problems, admitted to authorities that he visited a Las Vegas gun range the day before the 18 June rally to learn how to shoot a gun. The indictment revealed he also purchased a ticket to Trump's campaign stop in Phoenix, Arizona later that day as a backup plan.
The Surrey native's parents have pleaded for his release. Lynne Sandford, his mother, told the BBC she fears her son may try to commit suicide if he is detained in a US prison. She wants her son to be deported back to the UK "so he could be back in this country and get psychiatric help".
Sandford's mother said her son, who has Asperger's syndrome, has attempted to kill himself before. According to the BBC, his family was told he was being held "in isolation 22 hours a day with no window to the outside world." She said, "Why would he live the next 30 years in these situations? So yes I think he would attempt to commit suicide again."
NBC News reported that the federal public defender representing Sandford said they were sill gathering information and could not comment on the case.