A series of blasts targeting tourist towns across Thailand including the popular hotspots of Phuket and Hua Hin have killed four people and injured dozens of others.
Thai police are on high alert for further attacks after the four bombs exploded in Hua Hin and Trang on Thursday (11 August) and Hua Hin and Surat Thani the following day.
Although no group has yet claimed responsibility for the blasts, it is thought the bombings might have been carried out by separatist insurgents. Thai officials have said the attacks are not linked to international or Islamist terrorism.
The national police deputy spokesperson, Piyapan Pingmuang, told reporters in Bangkok: "This is not a terrorist attack. It is just local sabotage that is restricted to limited areas and provinces."
The Foreign and Commonwealth Office (FCO) has advised against all but essential travel to the provinces of Pattani, Yala, Narathiwat and Songkhla on the Thai-Malaysia border.
"We are in close contact with local authorities and urgently seeking more information. You should exercise extreme caution, avoid public places, and follow the advice of local authorities," the FCO website states.
"There is a high threat from terrorism. There have been recent incidents in Bangkok, including a bomb explosion on 17 August 2015 which resulted in numerous casualties including the death of a British national.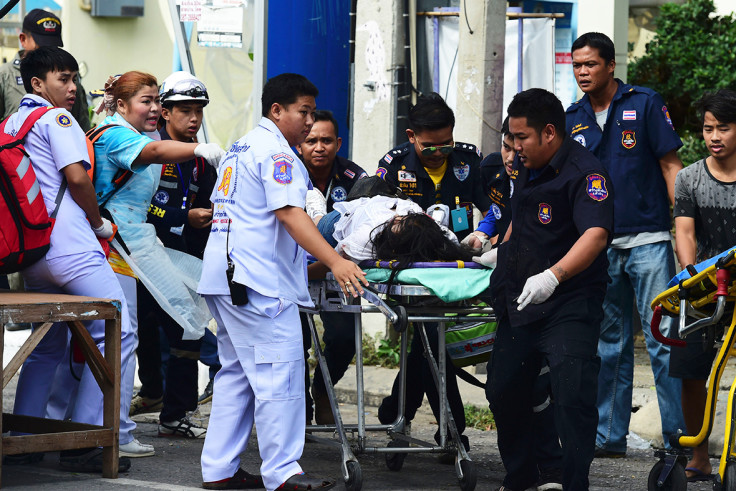 "You should follow the advice of the local authorities, monitor local media reports and remain vigilant."
The Australian government has also warned travellers in Thailand to exercise a high degree of caution. "There may be an increased security presence and restrictions on local travel.
"You should avoid the affected areas and other crowded places, monitor local media and follow the instructions of local authorities. The level of our advice has not changed. We continue to advise Australians to exercise a high degree of caution in Thailand. Higher levels apply in some parts of the country."
Britons make more than one million trips to Thailand every year, the majority of which are trouble-free.